Home
by Jonathan Halcomb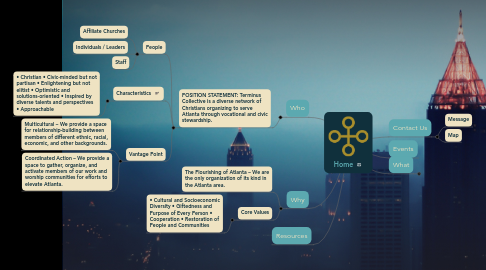 1. Why
1.1. The Flourishing of Atlanta – We are the only organization of its kind in the Atlanta area.
1.2. Core Values
1.2.1. • Cultural and Socioeconomic Diversity • Giftedness and Purpose of Every Person • Cooperation • Restoration of People and Communities
2. Events
3. What
3.1. MISSION STATEMENT: Terminus Collective exists to organize and equip leaders for the flourishing of Atlanta through the integration of faith, industry, and community.
3.1.1. Faith and Economic Stewardship – We work to advance a healthy theological framework for "Christian work" on Sunday & on Monday.
3.1.2. Faith and Civic Stewardship – We work to advance a healthy theological framework for the Christian's role as a member of a civic community.
3.1.3. We Promise...
3.1.3.1. Encouragement: All feel welcome and part of a larger team that, together, is reaching their God-given potential in all areas of life
3.1.3.2. Fulfillment: The happiness and peace that come when we gain a holistic understanding of our role in the world
3.1.3.3. Ownership: Of our communities—including its opportunities and challenges—when we understand how the Gospel is advanced through man-made institutions
4. Who
4.1. POSITION STATEMENT: Terminus Collective is a diverse network of Christians organizing to serve Atlanta through vocational and civic stewardship.
4.1.1. People
4.1.1.1. Affiliate Churches
4.1.1.2. Individuals / Leaders
4.1.1.3. Staff
4.1.2. Characteristics
4.1.2.1. • Christian • Civic-minded but not partisan • Enlightening but not elitist • Optimistic and solutions-oriented • Inspired by diverse talents and perspectives • Approachable
4.1.3. Vantage Point
4.1.3.1. Multicultural – We provide a space for relationship-building between members of different ethnic, racial, economic, and other backgrounds.
4.1.3.2. Coordinated Action – We provide a space to gather, organize, and activate members of our work and worship communities for efforts to elevate Atlanta.
5. Contact Us
5.1. Message
5.2. Map
6. Resources