What would make Represent.me better? - DON'T VIEW THIS ON MOBILE! YOU'LL BREAK IT : )
by Luke Flegg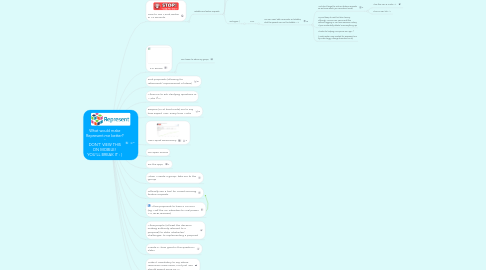 1. How to use MindMeister in 15 seconds
1.1. Bubbles are feature requests
1.1.1. TAB does this, and
1.1.2. ENTER does this.
1.1.3. ENTER again
1.1.4. and again : )
1.1.4.1. TAB.
1.1.4.1.1. You can view/ add Comments on bubbles; click the speech icon on this bubble --->
2. Fork proposals (allowing for refinement/ improvement of ideas)
3. Require (or at least invite) me to say how expert I am, every time I vote
4. Allow me to ask clarifying questions or "Vote *if* X"
5. Use Liquid Democracy
6. Go open source
7. Fix the app!
8. When I create a group, take me to the group!
9. Allow proposals to have a STATUS (eg. Half the UK subsidies to coal power = IMPLEMENTED)
10. Allow people (at least the decision making authority relevant to a proposal) to state 'obstacles/ challenges' to implementing a proposal
11. Create a "how good is this question" slider
12. Create a "how vague/ broad/ visionary is this" slider
13. Make it mandatory to say where resources come FROM not just "we should spend more on X"
14. Officially use a tool for crowd sourcing feature requests
15. FIX BUGS
15.1. Can't seem to admin my group!