Useful support & services for homeless people in Brighton 26 mar 16
by Luke Flegg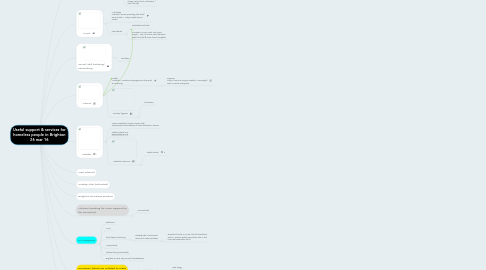 1. Brighton homeless practice
2. Free internet
3. Social/ skill building/ networking
3.1. First base
4. Cowley club (unlimited)
5. Advice
5.1. Justlife Activities + creative arts programme, key work & mentoring
5.1.1. Emmaus Offer a home as long as needed + meaningful work in social enterprises
5.2. Laundry/ hygiene
5.2.1. First Base?
6. Food
6.1. Anti freeze Outreach service providing free food/ warm drinks + 4 day a week drop in centre
6.2. Food banks
6.2.1. Portslade food bank
6.2.2. THURSDAY ONLY: Real Junk Food Project - 'Pay What You Feel' (donation only) hot meal @ ONE church, Brighton
7. Shelter
7.1. Sussex Nightstop (under 26 year olds) Temporary accommodation in local volunteer's homes
7.2. Shelter advice line: www.shelter.org.uk
7.3. Materials/ resources
7.3.1. Street Sheets
8. SOURCES (which we collated to make this map)
8.1. A bunch of volunteers' brains
8.1.1. Luke Flegg
8.1.2. add your name!
9. To categorise
9.1. Safehaven
9.2. YMCA
9.3. Clock tower sanctuary?
9.3.1. Existing lists of resources/ services to help homeless
9.3.1.1. Shouldn't this be in 'to do' list at the bottom? and/ or Sources (which says where info in this map has been taken from)
9.4. Morley street
9.5. Jubilee library (unlimited?)
9.6. Brighton & Hove City Council homelessness
10. Activism (working for more support for the homeless)
10.1. Love activists
11. Action plan for this map
11.1. Get a few friends to add more to it
11.2. Get it shared loads
11.3. Add links + phone numbers
11.4. Share with relevant local orgs
11.5. Ask that it be hosted on their website/ linked to
11.6. Get it printed
11.7. Get it distributed
12. How to use this map
12.1. Welcome Brightonians! Please don't just look at this map, improve it!
12.1.1. You'll see you don't even need to log in to add bubbles (ideas) - just click on any bubble and press ENTER which does...
12.1.1.1. ...this!
12.1.1.2. ...and ENTER again. You get it. You can also press TAB which does...
12.1.1.2.1. ...this!
12.1.1.2.2. ...and ENTER again. You can also add Comments. Click the little grey speech bubble icon ->
12.2. Please just go for it; edit away : ] don't be shy!