TAYLOR SWIFT
by Denise Seet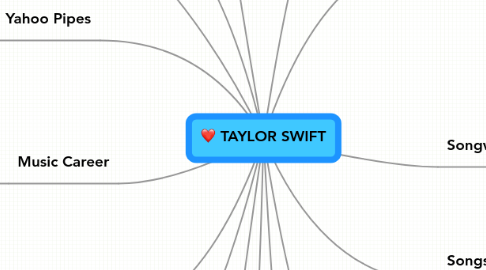 1. Born on december13,1989
2. a COUNTRY POP SINGER-SONGWRITER and ACTRESS
3. Awards
3.1. certified multi-platinum by RECORDING INDUSTRY ASSOCIATION OF AMERICA
3.2. Best new artist
3.3. 50th Grammy Awards
3.4. album of the year
3.4.1. 52nd Grammy Awards
3.5. Fearless top billboard200
3.6. was named ARTIST OF THE YEAR by billboard Magazine
4. sold over 13MILLION albums
5. ranked 69th most powerful celebrity,earning $18million
6. Family
6.1. taylor swift
6.1.1. raised in Wyomissing,Pennsylvania (US)
6.2. Andrea( mother)
6.2.1. a homemaker
6.3. Scott Swift (father)
6.3.1. a stockbroker
6.4. Austin (younger brother)
6.5. Grandma
6.5.1. a opera singer
7. Instruments she played
7.1. Guitar
7.2. piano
7.3. ukulee
7.4. vocals
8. Early Life
8.1. Forth grade
8.1.1. she won a national poetry contest with a 3 page poem entitled ''Monsters in my Closet''.
8.2. age 10
8.2.1. a computer repairman showed her to play 3 chords on a guitar,sparking her interest in learning the instrument.
8.2.2. wrote her first song : ''Lucky You''
8.2.3. began writing songs regularly and used it as an outlet to help her with her pain from not fitting in at school.
8.2.4. a victim of bulling, wrote songs to express her emotions
8.2.5. started performing at karaoke contest,festival and fairs around her hometown
8.3. age 12
8.3.1. devoted an entire summer to write a 350 page novel, but remains unpublished
8.3.2. first major show was a well-received perfomance at the Bloomsburg Fair
8.4. attended Hendersonville High School
8.5. in 2008
8.5.1. earned her high school diploma
9. musical influence
9.1. Shania Twain
9.2. LeAnn Rimes
9.3. Tina Turner
9.4. Dolly Parton
9.5. Taylor swift's Grandmother
10. Music Career
10.1. at age 11
10.1.1. made first trip to Nashville
10.2. returned to pennsylvania
10.2.1. to sing at the U.S. open tennis touornament
10.3. at age 12
10.3.1. started writing songs
10.3.2. played 12 string guitar
10.4. at age 15
10.4.1. rejected RCA Record
10.5. at age 14
10.5.1. became the youngest staff song writter ever hired by the Sony/ATV Tree publishing house.
11. Songwriting style
11.1. are highly autobiographical
11.2. is like a diary
12. Songs
12.1. the song "Forever & Always" was inspired by her relationship with Joe Jonas
12.2. "Hey Stephen" was written about a guy who opened some shows for her.
12.3. "Fifteen" was written about her freshman year of high school.
13. "My goal is to never write songs that my fans can't relate to."
14. Yahoo Pipes
14.1. Taylor Swift's Fans
14.1.1. all around the world
14.1.1.1. http://www.taylorswiftweb.net/
14.1.1.2. http://www.taylorswift.com/
14.1.1.3. http://www.fanpop.com/spots/taylor-swift
14.1.1.4. http://s1.zetaboards.com/Taylor_Swift/site/
14.2. Taylor Swift
14.2.1. http://pipes.yahoo.com/pipes/pipe.info?_id=5a0a9e1b191f76746609762c8b8b9aed
15. Blogger
15.1. Blogskins
15.2. Youtube
15.3. Google
15.4. Cbox
15.5. Mixpod
15.6. Blog url
15.6.1. http://www.taylorswift-love.blogspot.com