New Jersey Appellate Courts Mind Map
by Cheyne Scott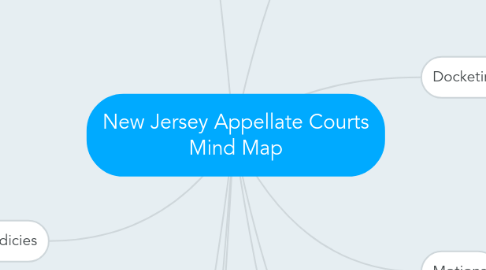 1. Initiating an Appeal
1.1. When to Appeal
1.1.1. 45 days from receipt of final judgment FInal Judgment or from quasi-judicial action taken by a state administrative agency: all issues and all parties R. 2:4-1
1.1.1.1. Time is tolled by filing a motion for reconsideration or new trial R. 2:4-3
1.1.2. Appeals from Interlocutory Orders 20 days of service of Order or 20 days after Motion to Reconsider is denied R. 2:5-6
1.2. Case Information Statement R. 2:5-1
1.3. $200 Filing fee
1.4. Transcript R.2:5-3
1.4.1. If there was no transcript, appellant must serve a statement of the evidence within 14 days after filing the notice of appeal R. 2:5-3(f)
1.4.2. Notice of Appeal must be accompanied by one or more transcript request forms directed to the court reporter who transcribed the proceedings R. 2:5-3(a)
1.4.2.1. Court reporter will send certification to appellant after the complete transcript has been forwarded on the court.
1.4.2.2. Appellant must serve certification on all parties within 7 days and file proof of service with the court R. 2:5-3(e)
2. Docketing
2.1. After all required papers and filing fees are received, the clerk of the Appellate Division will send a notice of docketing including the docket number, the date the appeal was filed and the name of the assigned case manager
3. Service
3.1. one copy of the transcript on any one respondent for the use of all respondents
3.2. two copies of briefs and appendicies must be served on each party
3.3. File proof of service simultaneously
4. Motions
4.1. Motion for Extension of Time for filing appeal R.2:4-4; R. 2:9-2 Upon a showing of good cause and absense of prejudice 30 days from final judgment 15 days from interlocutory order
4.1.1. Motion for Extension of Time to File the Brief one extension for 30 days with consent Additional requests must be by Motion
4.2. Motion for Extension of Length of the Brief R. 2:6-7 Extension of Motion page limits R.2:8-1(a)
4.3. Motion to Stay Appeal R. 2:9-5(b)
4.4. Motion for Ermergent Relief R. 2:9-8
4.5. Motion for Reconsideration R. 2:11-6 May be made within 10 days after entry of judgment or order
5. Brief R. 2:6-9
5.1. Courier Font 10-12 point R. 2:6-10
5.2. Page Length: 65 pages exclusive of tables on contents and citations; 90 pages for respondent; 20 pages for reply R. 2:6-7
5.3. Must supply copy of unpublished opinions in party's appendix R. 2:6-1(a)(1)(H)
5.4. Appellant's Brief R. 2:6-2
5.4.1. Table of Contents
5.4.2. Table of Citations arrangd alphabetically including statutes rules and other authorities
5.4.3. Preliminary Statement
5.4.3.1. May not exceed 3 pages
5.4.3.2. may not include footnotes or citations 2:6-2(a)(6)
5.4.4. Procedural History
5.4.4.1. Refer to the parties as "plaintiff" and "defendant" rather than "appellant" and "respondent"
5.4.5. Statement of Facts
5.4.6. Legal Argument
5.5. Respondent's Brief R. 2:6-4(a)
5.5.1. Must mirror the requirements of Appellant's Brief
5.5.2. May include a counterstatement of facts if the party disagree's with the Appellatent's statement of facts
5.5.3. Failure to file a brief in conformity with the rules may result in the appeal being deemed unopposed or in denial of oral argument R. 2:6-4(b)
5.6. Reply Brief
5.6.1. Must be filed in confirmity with R. 2:6-5
5.6.2. May attach an appendix
5.7. Brief & Appendix Cover colors 2:6-6
5.7.1. Petitioner: white
5.7.2. Respondent: blue
5.7.3. Reply: buff
6. Appendicies
6.1. Process
6.1.1. A joint appendix may be filed R. 2:6-1
6.1.2. Respondent may prepare an appendix, but may not include documents already included in appellant's appendix. R. 2:6-3
6.1.3. May be abridged by omitting irrelevant portions, with asterisks being usinged to indicate omissions R. 2:6-1(b)
6.2. Service
6.2.1. 5 copies of the appendix must be filed with clerk & two copies served on each party R. 2:6-12 With proof of service
6.3. Format
6.3.1. Each volume must include a table of contents identifying the initial page of each document R. 2:6-1(c)
6.3.2. Civil Actions: must include the pretrial order, if any, the pleadings, the judgment order or determination appealed from including the jury verdict sheet and jury charge; notice of appeal; and other relevant documents R. 2.6-1(a)(1)
6.3.3. Each page must be numbered consecutively followed by the letter (a) to indicate the appendix R. 2:6-1(a)(1)
6.3.4. Transcript SHOULD NOT be included in the appendix R. 2:6-1(a)(1)
6.3.5. Briefs submitted below SHOULD NOT be included unless it is referred to in the decision of the court or agency, or the question of whetehr an issue was raised in teh trial court is germae to the appeal R. 2:6-1(a)(2)
7. Oral Argument
7.1. Any party to an appeal may request oral argument by filing with the clerk's office no later than 14 days after service of respondent's brief, a separate captioned paper requesting argument R. 2:11-1(b)
8. References to Briefs, Transcripts, or Appendicies 2:6-8
8.1. Pb8 =Plaintiff's Brief, page 8
8.2. DB8=Defendant's Brief, page 8
8.3. Pa8=Plaintiff's Appendix, page 8
8.4. Da12= Defendant's Appendix, page 12
8.5. Ja15= Joint Appendix, page 15
8.6. Prb8= Plaintiff's Reply brief, page 8
8.7. Pra7= Plaintiff's reply appendix, page 8
8.8. T8-3=Transcript, page 8, line 3
8.8.1. Multiple volumes of transcripts must be numbered sequentially by chronology 1T, 2T