Phu Nhuan Class 1 VHV
by Phu Nhuan VHV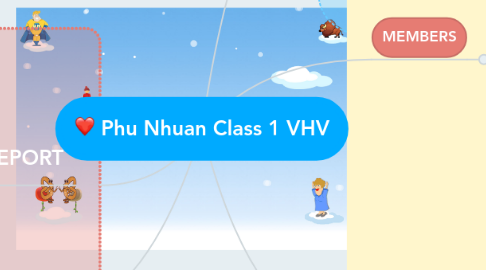 1. VOCABULARY
1.1. Alphabet
1.2. Numbers
1.3. Colors
1.4. School supplies
1.5. Animals
1.6. Transport
1.7. Body parts
2. MEMBERS
2.1. https://drive.google.com/file/d/0B0xv0VrSCT0OUnJoQ2ZqSHFrdUU/view?usp=sharing
3. SENTENCE STRUCTURE
3.1. What's your name?
3.2. How old are you?
3.3. How do you go to school?
3.4. What's your school's name?
3.5. Where do you live?
3.6. What number is it?
3.7. What is it?
3.8. What animal is it?
3.9. How many...?
3.10. Who do you live with?
3.11. What do you want to become in the future?
3.12. What do you like?
3.13. What do you dislike?
3.14. What color do you like? / What is your favourite color?
4. REPORT
4.1. March
4.1.1. 28/03/2016
4.1.2. 30/03/2016
4.2. April
4.2.1. 04.04.2016
4.2.2. 08.04.2016
5. IDEAS