Marisol Duran Browsers 2010
by
marisol duran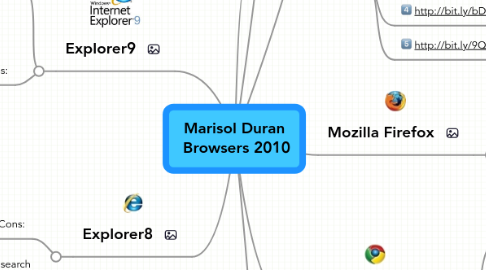 0.0
stars -
0
reviews range from
0
to
5
Marisol Duran Browsers 2010
Define: Browser
Opera
Pros:
Excellent download, search engine and pop-up blocker
Meets 21 features compared to Chrome and Firefox
Cons:
Poor Navigation
The menus can be difficult
Google Chrome
With a perfect score for compliance with four features
In comparison with Opera and Firefox it supports features: download management, spell check, audio updater, pop-up blocker.
Cons:
Compared to it biggest competitor (Firefox) it doesn't have many extensions.
Privacy, since it is run by google
Apple Safari
You can use the browser for the IPhone, Ipad.
In comparison with Chrome and Beta
Cons:
Suporting the lowest HTML5 compliance level of all browsers.
The worst HTML5 supporter
Mozilla Firefox
Default download folder, a separate download, and the ability to delete, view or clear all downloads.
Supports a wide of different web standards
Cons:
Clutter
Will use up a lot of memory when plug-ins are running
Explorer9
Internet Explorer 9 has overcome Chrome, Firefox, Opera and Safari in terms of HTML5
Allow websites to run smoother and faster in your browser
Cons:
You need to have one of the three following operating systems: Windows Server 2008, Windows Vista, Windows 7
Failure to embrace modern technologies
Still flags behind when compared to the other browsers.
Little support for the now
Sources
All sources are from October/Nov 2010
Shorten your URLs at the following link:
http://bit.ly/
http://bit.ly/9xAsV6
http://bit.ly/9msyms
http://bit.ly/9JJcCs
http://bit.ly/bDwQsS
http://bit.ly/9QU9dx
A software application for retrieving, presenting, and traversing information resources on the World Wide Web.