New Path Agency
by Melissa Woodcock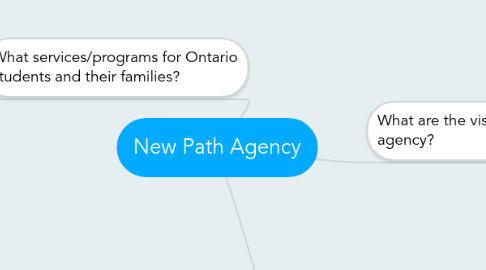 1. What are the vision and goals of the agency?
1.1. Exceptional support
1.1.1. We put youth and families first and balance the needs of our clients with an informed, mutually developed course of action. We treat everyone with respect, compassion and dignity. We embrace diversity and accessibility.
1.2. Collaboration
1.2.1. We actively encourage, support and invest in partnerships.
1.3. Leadership
1.3.1. We actively seek to influence positive change our communities.
1.4. Accountability
1.4.1. We are accountable to, and hold a privileged position of trust with our clients, staff, community partners and other stakeholders.
1.5. Excellence
1.5.1. We are committed to personal, professional and organizational development leading to the delivery of the highest quality of services and support.
1.6. Environmental responsibility
1.6.1. We consider the environment in all decision making.
1.7. Entrepreneurship
1.7.1. We are comfortable with measured risk, learn from our successes and challenges, and embrace opportunities that will maximize our impact .
1.8. Advocacy
1.8.1. We champion the mental heath needs of children, youth and families.
2. What services/programs for Ontario students and their families?
2.1. Child and Youth Services
2.1.1. Adolescent Outreach
2.1.2. Attendance Centre
2.1.3. Community Partners with Schools (COMPASS)
2.1.4. Blind -Low Vision Program
2.1.5. CTN Child and Family Counselling Program
2.1.6. Early Years Services
2.1.7. Infant Hearing Program
2.1.8. Intensive Services for Students Program (ISSP)
2.1.9. Multi-Disciplinary Consultation Clinic
2.1.10. New Directions Treatment Program
2.1.11. Probation In House Clinical Services (PICS)
2.1.12. Residential Program
2.1.13. Respite
2.1.14. Youth and Family Counselling
2.2. Adult Services
2.2.1. Partner Abuse Program Women's Services
2.2.2. Partner Assault Response Services
3. How are services/programs accessed?
3.1. Central Intake and Referrals
3.1.1. 1-866-566-7656
3.2. Email
3.2.1. [email protected]