Diferencias
by Crystal Lucero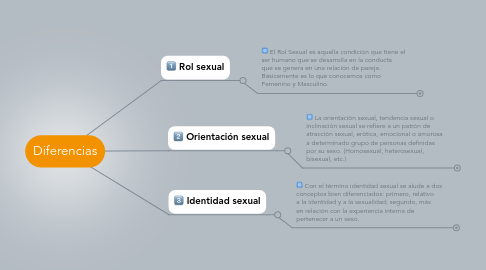 1. Rol sexual
1.1. El Rol Sexual es aquella condición que tiene el ser humano que se desarrolla en la conducta que se genera en una relación de pareja. Básicamente es lo que conocemos como Femenino y Masculino.
1.1.1. Recruit Project Sponsor
1.1.2. Recruit Project Manager
1.1.3. Review Related Projects and Lessons Learned
1.1.4. Prepare Project Initiation Plan
1.1.5. Brief the Initial Project Team
1.1.6. Review Project Kick-off Plans and Presentation Map
1.1.7. Hold Project Kick-off Meeting
2. Orientación sexual
2.1. La orientación sexual, tendencia sexual o inclinación sexual se refiere a un patrón de atracción sexual, erótica, emocional o amorosa a determinado grupo de personas definidas por su sexo. (Homosexual, heterosexual, bisexual, etc.)
2.1.1. Determine Next Stage Tasks
2.1.2. Determine Task Dependencies
2.1.3. Estimate Effort
2.1.4. Allocate Resources
2.1.5. Prepare Next Stage Schedule
2.1.6. Prepare Next Stage Budget
2.1.7. Update Project Schedule
2.1.8. Update Project Budget
2.1.9. Review Business Case
2.1.10. Review Project Organization
2.1.11. Review Project Scope
2.1.12. Prepare Stage Assessment
2.1.13. Review Stage Assessment
2.1.14. Follow-Up Stage Assessment
2.1.15. Compile Stage Closure Report
3. Identidad sexual
3.1. Con el término identidad sexual se alude a dos conceptos bien diferenciados: primero, relativo a la identidad y a la sexualidad; segundo, más en relación con la experiencia interna de pertenecer a un sexo.
3.1.1. Prepare Project Review
3.1.2. Conduct Project Review
3.1.3. Implement Process Improvement