Aisling Discoveries Child and Family Center
by Alison Karsh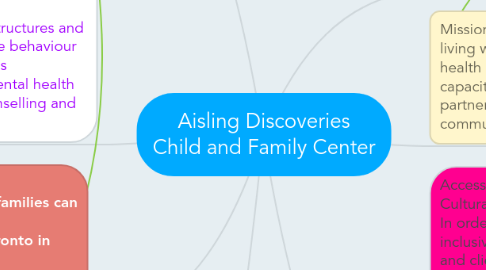 1. Visions and Goals - Their vision is to create an inclusive community where all children reach their full potential Values: Excellence, Integrity and Accountability Diversity and Inclusion Leadership and Innovation Partnership and Collaboration
2. Equity, inclusion and awareness of cultural diversity - The Aisling Discoveries Centre believes that every family, child and staff member have unique perspectives to contribute - They respect and seek to understand the impact of diversity in all of its forms - Treatment interventions and services should be informed by evidence-based practices - Within schools they support children who require mental health services in achieving success - Their services strive to be accessible to all families
3. What service and programs are offered for students and their families? - The Aisling Discoveries Centre offers support for infants (Infant Child Treatment) from birth to 6 years of age, in partnership with their families and communities - They offer support and services for students with Autism and their families - They offer day treatments, residential in house treatments, family counselling and therapy for children from 4-12 years of age - They offer parent training to create structures and routines at home, and provide effective behaviour management strategies and techniques - Within schools, students requiring mental health services are referred to A.D.C. for counselling and therapy.
4. How are the services and programs accessed? For any information, support, or general inquiries, families can contact the main office by phone or email They may also go into one of the offices around Toronto in order to discuss future appointments Though school boards, some students may be referred to A.D.C for support
5. What they offer for families (Continued) - Ideas on child management and parenting - Help for your child to function more successfully at school or child care - Support and reassurance - Help for children to feel better about themselves - Specialized groups for children or parents on topics such as separation and divorce, anxiety, attention-deficit/hyperactivity disorder - Skill development for children and youth with autism spectrum disorder - Assessment and treatment of early speech and language delays - Extra support for a healthy pregnancy - Individual and family counselling - Information and resource materials
6. Mission Statement "We serve children living with developmental and mental health needs by enhancing emotional capacity and social well-being in partnership with families and communities"
7. Accessibility and Equity, Inclusion and Cultural Diversity In order to provide a welcoming and inclusive environment for all individuals and clients who visit the centre, they provide accessibility features to accommodate all individuals, and eliminate accessibility barriers. Their centre meets with the Accessibility for Ontarians with Disabilities Act (AODA) They offer a Multicultural Calendar on their website in order to encourage the celebration and education of the many different cultures that make up Ontario