WORDS AND WORD CLASSES
by juan camilo urrea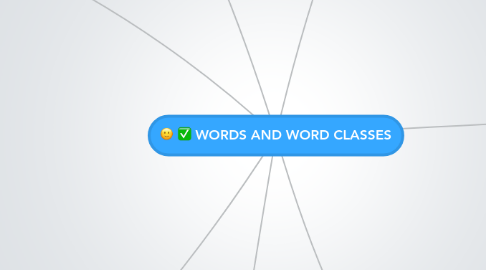 1. THE PLAY WAS DIRECTED BY CARLOS
2. PERSONAL PRONOUNS
3. BRING, BROUGHT, BROUGHT
4. ADJECTIVES
5. CONJUCTIONS
6. NOUNS
7. MAIN VERBS
8. ADVERBS
9. PRONOUNS
10. ARE DIVIDED IN
11. GRADABLE ADJECTIVES
12. PARTICIPAL ADJECTIVES
13. COMPARATIVE AND SUPERLATIVE.
13.1. PREPOSITIONS
14. CAN BE
15. COMPARATIVE
16. SUPERLATIVE
17. TAKE A MODIFYING WORD
18. HAVE TO TO THE ENDINGS -ED-ING-ALWAYAS REFERING TO A VERB
19. FAIRLY COLD, VERY COLD, EXTREMELY COLD.
20. A VERY COMPLICARED PROCESS. AN EXTREMELY REWARDING EXPERIENCE
21. IS PRODUCED BY ADDING AN -EST- ENDING THE BASE
22. IS PRODUCED BY ADDING AN -ER- ENDING THE BASE
23. NEW, NEWEST, OLD, OLDEST
24. NEW, NEWER, OLD, OLDER
25. ARE DIVIDED IN
26. SINGULAR AND PLURAL
27. COMMON AND PROPE NOUNS
28. COUNTABLE AND UNCOUNTABLE NOUNS
29. GENITIVE NOUS
30. DEPENDENT AND INDEPENDENT NOUNS
31. PREPOSITIONS
32. COORDINATORS, ARE USED TO LINK ELEMENTS OF EQUAL GRAMMATICAL STATUS
33. THE WEATHER WAS (COLD), AND (WET)
34. PREPOSITIONS ARE REMAINLY USED TO INTRODUCE A NOUN PHRASE.
35. AFTER-DARK, ACROSS THE ROAD, FOR THE CHILDREN, FROM LONDON.
36. THE FIVE VERB FOR
37. BASE FORM
38. THE -S FORM
39. THE ING FORM
40. THE PAST FORM
41. THE -ED FORM
42. WE DECIDED TO WALK
43. SHE WALKS TO SCHOOL
44. SHE IS WALKING
45. I COOKED DINNER
46. REGULAR VERB
47. IRREGULAR VERB
48. CHANGE LITTLE THE VERB
49. SHE DREAMED
50. HAVE IRREGULAR VARIANTS
51. MULTI WORD VERBS
52. ARE COMBINATIONS OF A VERB, ONE OR MORE OTHER WORDS
53. PREPOSITIONAL VERBS
54. ARE COMBINATIONS OF A VERB AND A PREPOSITION
55. I'LL LOOK IN TO THE MATTER IMMEDIATELY
56. PHRASAL VERBS
57. ARE COMNINATIONS OF AVERB AND AN ADVERB
58. THE ENGINE CUT OUT JUST BEFORE LANDING
59. VERB TOBE
60. IS VERY IRREGULAR, AND EXHIBITS A TOTAL OF EIGHT DIFFERENT FORMS
61. BE, I AM, I WAS, BEEN, BEING
62. EXHIBIT CONTRASTS FOR PERSON.
63. I AM CAMILO.ME HE HIM
64. POSSESIVE PRONOUN
65. EXHIBIT CONTRASTS FOR PERSON
66. THIS IS MY CAR
67. REFLEXIVE PRONOUN
68. END IN - SELF
69. MICHAEL WAS VERY BADLY INJURED AND IS NOW UNABLE TO FEED HIMSELF.
70. GENDER NEUTRAL PRONOUS
71. ARE GEMDER NEUTRAL PRONOUN IN THE SINGULAR.
72. SOME BODY HAS LEFT HIS COAT BEHIND
73. DEMOSTRATIVE PRONOUN
74. ARE USED WITH SINGULAR PRONOUNS. THIS THAT THERE THOSE.
75. DO YO NEED THIS PEN
76. RELATIVE PRONOUN
77. INTRODUCE A RELATIVE CLAUSE. WHO, WHOM, WHOSE, WHICH THAT.
78. THAT'S THE MAN WHO LIVES BESIDES US.
79. PRONOUN ( ONE )
80. IS USED AS A SUBTITUTE FOR A NOUN THAT HAS BEEN MENTIONED EARLIER.
81. THE BLACK COAT IS NICE BUT THE GREEN ONE IS A AWFUL
82. PRONOUN (IT)
83. IT CAN REPLACE A THIRD PERSON, SINGULAR NOUNS, NO REFERO HUMANS.
84. IT IS VERY COLD- IT IS FOUR O'CLOCK
85. GRADABLE ADVERBS
86. CAN TAKE A MODIFYING WORD SUCH AS FAIRLY OR VERY
87. FAIRLY SLOWLY-VERY SLOWLY-EXTREMELY SLOWLY
88. COMPARATIVE AND SUPERLATIVE ADVERBS.
89. SUPERLATIVE
90. COMPARATIVE
91. ENDING IN -ER
92. ENDING -EST
93. MARY WORKS HARDER
94. PAUL EORK HARDEST
95. INTENSIFIERS
96. IS A TYPE OF ADVERB WHICH IS USED TO EXPRESS INTENSITY.
97. VERY COLD-VERY EAGER
98. MANNER ADVERBS
99. HOW SOMETHING HAPPENS
100. PAUL WRITES BEAUTIFULLY
101. TIME ADVERBS
102. INDICATE WHEN SOMETHING HAPPENED
103. WE VISITED ROME RECENTLY
104. PLACE ADVERBS
105. INDICATE A PLACE OR DIRECTION.
106. LEAVE YOUR COAT THERE.
107. SINGULAR
108. PLURAL
109. ARE THE WORDS IN FIRST PERSON
110. FORM THE PLURAL BY ADDING -S
111. IRREGULAR PLURALS
112. MEN-WOMEN-FEET
113. BOY-TABLE-WOMAN, ETC.
114. THE BOY-THE BOYS
115. COMMUN
116. PROPER NAME
117. IS THE PLURAL OF PROPER NAMES
118. ARE THE NAMES OF INDIVIDUAL PEOPLE AND PLACES
119. THERE ARE TWO PARICKS
120. CHINA, COLOMBIA,CARLOS ETC.
121. COUNTABLE
122. UNCOUNTABLE
123. PLURAL NOUNS, DENOTE MORE THAN ONE INSTANCE
124. REFER TO THINGS WHICH ARECONSIDERED AS INDIVISIBLE.
125. TWO BOYS, TWO DAYS,, THREE DYAS.
126. RICE,COFFE, SOFTWARE
127. DENOTE POSSESION
128. JHON´S CAR
129. DEPENDENT
130. INDEPENDENT
131. IS FOLLOWED BY A NOUN
132. IS NOT FOLLOWED BY A NOUN
133. THE CHILD´S TOYS
134. A FRIEND OF CAROLINE´S
135. GENDER OF NOUNS
136. IS THE ORIGINAL WORD
137. THE TIGER ROARS AT NIGHT-THE TIGRESS ROARS AT NIGHT