Intrinsic Motivation
by David Rivas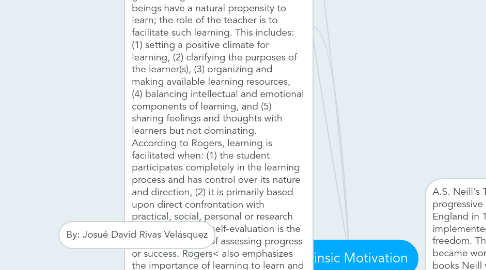 1. Montessori's Thories: Montessori education is an educational approach developed by Italian physician and educator Maria Montessori based on her extensive research with "phrenasthenic" or "special needs" children and characterized by an emphasis on independence, freedom within limits, and respect for a child's natural psychological, physical, and social development. The model has two basic principles. First, children and developing adults engage in psychological self-construction by means of interaction with their environments. Second, children, especially under the age of six, have an innate path of psychological development. Based on her observations, Montessori believed that children who are at liberty to choose and act freely within an environment prepared according to her model would act spontaneously for optimal development.
2. Paulo Freire's Theory: Freire is best known for his attack on what he called the "banking" concept of education, in which the student was viewed as an empty account to be filled by the teacher. He notes that "it transforms students into receiving objects. It attempts to control thinking and action, leads men and women to adjust to the world, and inhibits their creative power. According to Freire, the system of dominant social relations creates a 'culture of silence' that instills a negative, silenced and suppressed self-image into the oppressed. The learner must develop a critical consciousness in order to recognize that this culture of silence is created to oppress.
3. A.S. Neill's Theory was the founder of a progressive school, Summerhill, in England in 1924. In this school, he implemented his ideas about pupil freedom. These ideas, and the school, became world famous in a series of books Neill wrote about the Summerhill experience. What is Summerhill like? Well, for one thing, lessons are optional. Children can go to them or stay away from them—for years if they want to. There is a timetable, but only for the teachers. The children have classes usually according to their age, but sometimes according to their interests. We have no new methods of teaching, because we do not consider that teaching itself matters very much. Whether a school has or has not a special method for teaching long division is of no significance, for long division is of no importance except to those who want to learn it. And the child who wants to learn long division will learn it no matter how it is taught. Children who come to Summerhill as kindergarteners attend lessons from the beginning of their stay; but pupils from other schools vow that they will never attend beastly lessons again at any time. They play and cycle and get in people's way, but they fight shy of lessons. This sometimes goes on for months. The recovery time is proportionate to the hatred their last school gave them. Our record case was a girl from a convent. She loafed for three years. The average period of recovery from lessons aversion is three months
4. Carl Rogers's Theory: Rogers distinguished two types of learning: cognitive (meaningless) and experiential (significant). The former corresponds to academic knowledge such as learning vocabulary or multiplication tables and the latter refers to applied knowledge such as learning about engines in order to repair a car. The key to the distinction is that experiential learning addresses the needs and wants of the learner. Rogers lists these qualities of experiential learning: personal involvement, self-initiated, evaluated by learner, and pervasive effects on learner. To Rogers, experiential learning is equivalent to personal change and growth. Rogers feels that all human beings have a natural propensity to learn; the role of the teacher is to facilitate such learning. This includes: (1) setting a positive climate for learning, (2) clarifying the purposes of the learner(s), (3) organizing and making available learning resources, (4) balancing intellectual and emotional components of learning, and (5) sharing feelings and thoughts with learners but not dominating. According to Rogers, learning is facilitated when: (1) the student participates completely in the learning process and has control over its nature and direction, (2) it is primarily based upon direct confrontation with practical, social, personal or research problems, and (3) self-evaluation is the principal method of assessing progress or success. Rogers< also emphasizes the importance of learning to learn and an openness to change.
5. Similarities: All of this methods was developed by people who know a lot of techniques that affortunately as teachers we can use it now according the kind of students, topic or context on which we are. Differences: Every theory was developed based on differents context, for example the Montessori's Method belives on freedom while others says that teacher has to be the center of the class.
6. By: Josué David Rivas Velásquez