Rigoberto Tavena Browsers 2010
by Rigoberto Tavena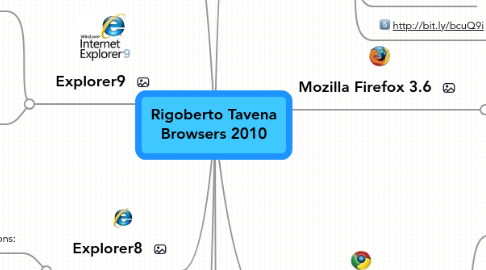 1. Browser: Software that allows you to access sites on the World Wide Web. The browser also allows you to use embedded links (hypertext) to jump from a word or image instantly to another set of data; hypertext.
2. Opera 10.63
2.1. Pros:
2.1.1. Incredibly fast Handy Speed Dial functionality
2.1.2. Built-in spell checker with support for 51 languages 100% compatible with Web standards Tab thumbnail previews
2.2. Cons:
2.2.1. Not as customizable as Firefox, Cluttered interface
2.2.2. No support for plugins such as 1Password
3. Google Chrome 7
3.1. Pros:
3.1.1. Chrome's best-known feature is its speed. rough estimate is that it starts about 10% faster than Firefox, and loads pages about 35% faster on average. This is enough of a difference for bragging rights, although since the times are measured in seconds,
3.1.2. A minimalist interface.The advantage of this minimalism is that it maximizes the amount of space for displaying pages, which may be especially handy on a netbook screen. It also reduces window clutter.
3.2. Cons:
3.2.1. However, this speed disappeared with 23 tabs opened at once. In fact, Firefox was about 25% faster in completely loading all the tabs.
3.2.2. The potential disadvantage is that the controls, which cannot be customized, are too small for some users. This disadvantage may be compounded by the small and equally minimalist icons These icons are divided by the input field in the middle, with the browsing controls such as Next and Previous on the left and configuration options for the current page and for Chrome in general on the right.
4. Apple Safari 5
4.1. Pros:
4.1.1. the Safari 5 boasts an enhanced Nitro javascript engine that runs 30 % faster than its previous incarnations, and faster than Chrome and Firefox. With its improved DNS pre-fetching capability, previously viewed web pages should load even faster.
4.1.2. Tabbed settings allow you to open additional, multiple web pages in new tabs, preventing unsightly clutter and allowing for more efficient maneuverability.
4.2. Cons:
4.2.1. Safari still lacks many of the small but useful features competitors offer.When it comes to features, though, Safari runs a serious risk of being left behind.
4.2.2. Although its search abilities may not be up to par with the competition, Safari 5 does not offer a session manager. It also doesn't natively respect your default browser for opening links.
5. Mozilla Firefox 3.6
5.1. Pros:
5.1.1. The most noticeable feature in the Mozilla browser is Personas, previously available only through an extension. Essentially simple themes for the browser, Personas allow users to make changes to the look of the browser.
5.1.2. With Version 3.6, Firefox now tracks plug-ins, and users can view a Web page to see if their plug-ins are up-to-date or need to be upgraded.
5.2. Cons:
5.2.1. Loading a long time began to start, especially if a lot of adds-on that is installed
5.2.2. Firefox and Chrome both support web applications, but not by default: Google's support for apps is only in the developer releases, while Firefox needs Mozilla's Prism to turn sites into desktop applications.
6. Explorer9
6.1. Pros:
6.1.1. IE9 is the First browser to support full GPU acceleration (Direct 2D)
6.1.2. IE9 performs all graphics rendering on the GPU, providing quicker page rendering, faster, smoother animation, and high quality image scaling, resulting in richer experience.
6.2. Cons:
6.2.1. Crowded user interface. If you keep more than one tab open at once they start getting narrow and things get crowded quick.
6.2.2. No improvement in editing bookmarks editing your list of Favorites still stinks in IE9 beta. No improvement has been implemented for the way your Favorites list is managed
7. Explorer8
7.1. Cons:
7.1.1. Internet Explorer 8 and lower showed the world that a browser can have poor underlying javascript execution engines, lack of Modern web support (HTML5, CSS3) and poor threads that render webpages sluggishly for most users
7.1.2. Internet Explorer 8 is quite heavy to load, and smaller home users may have to watch their hard drives before they can decide on an upgrade to IE8.
8. Sources
8.1. minimum 5 sources, collaborative effort; only most recent versions as shown
8.1.1. Shorten your URLs at the following link:
8.1.2. http://bit.ly/
8.2. http://bit.ly/dhDZy2
8.3. http://bit.ly/cZX8TH
8.4. http://bit.ly/9hfFXT
8.5. http://bit.ly/9pfXjI
8.6. http://bit.ly/bcuQ9i