Golden State Warriors Record Breaking Season
by Jackson Peterson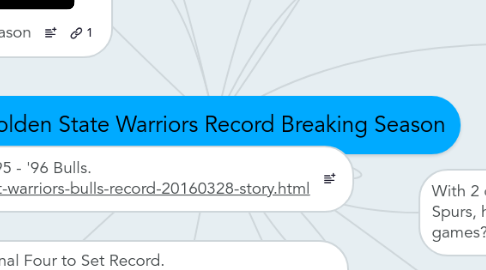 1. Last 2 of 4 games against conference rival San Antonio Spurs.
1.1. Spurs are 2nd in Western Conference standings behind the Warriors.
2. Lost their 54 home game win streak to a 109-106 loss in overtime to the Celtics.
2.1. This means the Warriors have to win their last four games to break the record.
3. At 66 -7, Warriors one game ahead of pace set by '95 - '96 Bulls. http://www.chicagotribune.com/sports/basketball/ct-warriors-bulls-record-20160328-story.html
4. Warriors Fall to Bucks, Ending Perfect Start. The Golden State Warriors are perfect no more. http://www.nytimes.com/2015/12/13/sports/basketball/golden-state-warriors-milwaukee-bucks-record-streak.html?_r=2
5. Draymond Green, Klay Thompson prove Warriors can win without Steph Curry. When the Golden State Warriors played their first game of the season Wednesday without Steph Curry and got blown out, 114-91 by the Dallas Mavericks, it was easy to come to this conclusion: they may have gotten off to the best start in NBA history, but it doesn't make them elite without Stephen Curry. As it turned out, Golden State has a few more tricks up its sleeve. In another road game the very next night, again without Curry, the Warriors topped James Harden and the Houston Rockets, 114-110.https://www.washingtonpost.com/news/early-lead/wp/2015/12/31/draymond-green-klay-thompson-prove-warriors-can-win-without-steph-curry/
6. Chase for 73: After Loss to Wolves, Warriors Must Win Final Four to Set Record. http://espn.go.com/nba/story/_/id/14329436/nba-golden-state-warriors-chasing-1995-96-chicago-bulls
7. Warriors Record Breaking Season
8. Warriors win 100-99 to beat the Grizzles in Memphis and keep their record breaking dreams alive.
9. Video: https://www.youtube.com/watch?v=mN1OeqfUtdo&src_vid=0J-hy53DA5o&feature=iv&annotation_id=annotation_2073601159
10. Warriors winning ways show how NBA basketball has changed.
11. With the Warriors losses to the Celtics and the Timberwolves, it shows making history will not be easy.
12. With 2 of their final 4 games against the Spurs, how will the Spurs play these games?
12.1. The Spurs played their starters in the first game in Oakland, and they will play all their starters in San Antonio. Keep in mind that Tim Duncan was the only starter that played in their last game against the Nuggets.
13. Warriors vs. Spurs final score: Golden State's drops the Spurs 112-101 at home. http://www.sbnation.com/nba/2016/4/8/11390942/warriors-spurs-final-score-2016-nba-stephen-curry-kawhi-leonard
14. Golden State edges out the Memphis Grizzlies in the final minute 100-99.
15. Their 24-game winning streak to start the 2015-16 N.B.A. season came to end on December 12,2015 in Milwaukee, where they lost to the Bucks, 108-95