A Recent Week 2.0
by
George Dearing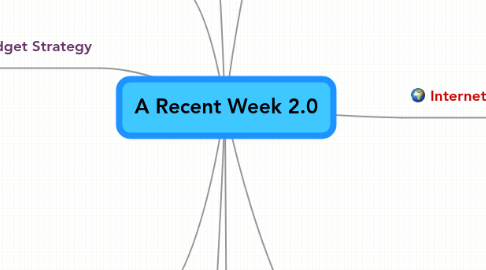 4.2
stars -
5
reviews range from
0
to
5
A Recent Week 2.0
Blog | RSS OnRamp
Implement Blog platform
Brand the site
Identify Bloggers
Create Blogger Profiles | BIOs
Train Users
Map to client domain
Select and configure RSS readers
SharpReader
Google Reader
Attensa
WorkLight
Know Now
NewsGator
FeedReader
Select and configure start pages
Google Personalized Home Page
NetVibes
Original Signal
Select and configure blog editor(s)
Qumana
Windows Live Writer
BlogJet
Social Media Integration | Widget Strategy
WidgetBox
Establish account
Configure custom widgets
Publish widgets to Widgetbox directory
Spring Widgets
Establish account
Configure widgets
Publish Widgets
Feedburner
Establish FeedBurner account
Configure email subscription widget
Configure additional FeedBurner tools
LinkedIn
Establish account |Develop Profile
Establish Account
Develop Profile widget
Deploy Profile widget
Flickr
Add This
ConnectBeam
Cogenz
Delicious
Facebook
Ning
Marketing
Identify demographics
Develop marketing campaign
Identify medium
Web, Develop web content and links to client site | other domains, Intro video?, Intro podcast?
Snail Mail, Direct Mail launch teaser?
Email, Develop marketing assets, Select email marketing service, New Media Gateway (NMG) EMS 2.0, Email Labs, SilverPop, iContact | formerly Intellicontact, List Acquisition
Mobile, Define mobile demographics, Research mobile advertsing options
Produce marketing content | artifacts
Develop brand | creative
Develop website | blog boilerplate content
Develop supporting collateral | value exchange items
PR Strategy
Develop strategy
Pitch to local media?
Events?, Community, Fundraising
Grassroots?
Develop pitch | positioning
PR 2.0
Social Media Press Release (SMPR)
Blogger Outreach
Set-up social media | brand monitoring tools, Technorati for blog monitoring, Establish account, Develop Technorati Profile | Claim Blogs, BuzzLogic, Research product fit | business case, TNS Media | Cymfony, Research product fit | business case, Google Alerts, Establish account, Configure alerts
Internet Advertising
Select Ad Network (s)
Google AdWords, establish account
Microsoft AdCenter, establish account
Yahoo Panama, establish account
Niche sites
research appropriate content
Develop campaign strategy
Produce advertisement
Develop campaign strategy
Develop Ad | copy, Text ad, Image ad, Video ad
Deploy to ad networks
Train on measurement, Generic Vendor Analytics, Google Analytics
Business Development
Create Biz Dev Value Prop
Identify Strategic Partners
Select content partners
B2B service providers
Sponsors | Advertising
Create Joint Pitch
Identify Target Accounts
Marketing Asset Development | Content Development
Images
Video
Audio | Podcasts
Training | OnRamp Activities
Blog Platform
Wiki Platform
Blog editors
RSS Readers | Aggregators
Ghostwriting | Content Development JumpStart
My Geistesblitzes
test