Impacts of the Sharing Economy in Transportation
by Harlens Exume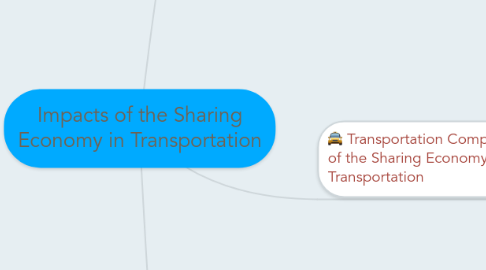 1. What is Sharing Economy
1.1. The sharing economy refers to economic and social systems that enable shared access to goods, services, data and talent
1.2. These systems take a variety of forms but all leverage information technology to empower individuals, corporations, non profits and government with information that enables distribution, sharing and reuse of excess capacity in goods and services
2. Transportation Companies that are part of the Sharing Economy in Transportation
2.1. Uber
2.1.1. is an American multinational online transportation network company headquartered in San Francisco, California
2.1.2. Uber was founded as "UberCab" by Travis Kalanick and Garrett Camp in 2009 and the app was released the following June.
2.1.3. It develops, markets and operates the Uber mobile app, which allows consumers with smartphones to submit a trip request which is then routed to Uber drivers who use their own cars.
2.1.4. As of April 12, 2016, the service was available in over 60 countries and 404 cities worldwide.
2.1.5. Since Uber's launch, several other companies have copied its business model, a trend that has come to be referred to as "Uberification"
2.1.6. Beginning in 2012, Uber expanded internationally.
2.2. Zipcar
2.2.1. is an American car-sharing company, a subsidiary of Avis Budget Group.
2.2.2. As of June 2015, the company had more than 900,000 members and offers nearly 10,000 vehicles throughout the United States, Canada, the United Kingdom, Spain, France, Austria and Turkey, making Zipcar one of the world's leading car rental networks
2.2.3. Members can reserve Zipcars with Zipcar's mobile app, online or by phone at any time, immediately or up to a year in advance.
2.2.3.1. Zipcar members have automated access to Zipcars using an access card which works with the car's technology to unlock the door, where the keys are already located inside.
2.2.3.2. Zipcar also offers an iPhone or Android application that allows members to honk the horn to locate a Zipcar and unlock the doors.
2.2.4. Zipcar provides automobile reservations to its members, billable by the hour or day
2.2.5. Zipcar members pay a monthly or annual membership fee in addition to car reservations charges.
2.2.5.1. Zipcar charges a one-time application fee, an annual fee, and a reservation charge.
2.2.5.2. Fuel, parking, insurance, and maintenance are included in the price
2.2.6. Zipcar was founded in 2000 by Cambridge, Massachusetts residents Antje Danielson and Robin Chase.
2.3. Lyft
2.3.1. Lyft is a privately held American transportation network company (TNC) based in San Francisco, CA.
2.3.2. Launched in June 2012 by Logan Green and John Zimmer, the company's mobile-phone application facilitates peer-to-peer ride sharing by connecting passengers who need a ride with drivers who have a car.
2.3.3. Lyft now operates in over 200 U.S. cities
2.3.3.1. including San Francisco, Los Angeles, and New York City
2.3.4. Lyft is valued at $5.5 billion
3. Why Is it Important
3.1. Overcome barriers to transit and cycling with better information
3.1.1. In order to do that they:
3.1.1.1. • Need a good source of data – Open data – Crowdsourced data
3.1.1.1.1. An app
3.1.1.1.2. Social Media
3.1.1.1.3. The News
3.1.1.1.4. Any other way such as advertisement in order to recruit users
3.1.1.2. • A way to get the information to people – Usable apps – Multiple means of access