Group Project on College Research
by Megan Patterson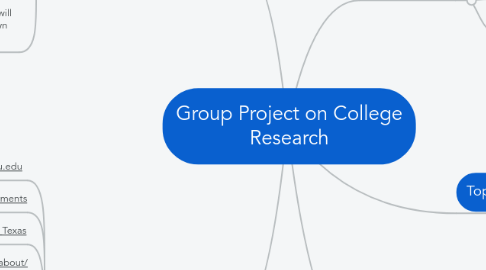 1. Assignment
1.1. Texas A&M University Research Project
1.2. I can research information on a specific university
1.3. Due: April 12th, 2016
2. Purpose
2.1. The group will create a presentation that displays solid research and information on Texas A&M University.
3. Team Members and Jobs
3.1. John--Team Leader who puts the presentation together, researches the location of the unversity and makes sure the sources are cited correctly.
3.2. Lydia--She will research admissions standards and student body numbers
3.3. Steve--He will research student life and activities
3.4. Mary--she will research all degrees and academic programs this campus offers. She will also note what programs the campus is known for.
4. Resources
4.1. Links
4.1.1. www.tamu.edu
4.1.2. http://www.prepscholar.com/sat/s/colleges/Texas-AandM-admission-requirements
4.1.3. https://en.wikipedia.org/wiki/College_Station,_Texas
4.1.4. http://www.tamus.edu/about/
4.1.5. http://accountability.tamu.edu/All-Metrics/Mixed-Metrics/Student-Demographics
4.1.6. http://admissions.tamu.edu/freshman/apply
4.1.7. http://ogaps.tamu.edu/Prospective-Students/Programs-and-Degrees
4.1.8. http://www.dineoncampus.com/tamu/show.cfm?cmd=menus
4.1.9. http://12thman.com/
4.2. Videos
4.2.1. https://www.youtube.com/watch?v=Ye7w_h34loA
5. Topics
5.1. Student Life
5.2. Sports
5.3. Admissions
5.4. Degrees and Academics
5.5. Student Body
5.6. Location