Willie Allen Browsers 2010
by Willie Allen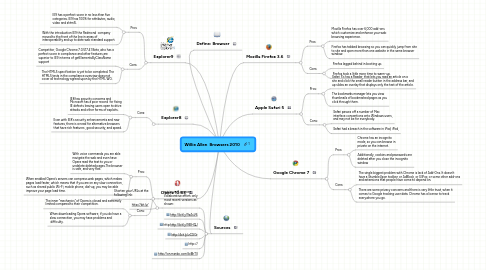 1. Define: Browser
2. Opera 10.63
2.1. Pros:
2.1.1. With voice commands you are able navigate the web and even have Opera read the text to you or undelete deleted pages.The browser is safe, and very fast.
2.1.2. When enabled Opera's servers can compress web pages, which makes pages load faster, which means that if you are on any slow connection, such as shared public Wi-Fi, mobile phone, dial-up, you may be able improve your page load time.
2.2. Cons:
2.2.1. The inner "mechanics" of Opera is closed and extremely limited compared to their competition.
2.2.2. When downloading Opera software, if you do have a slow connection, you may have problems and difficulty.
3. Google Chrome 7
3.1. Pros:
3.1.1. Chrome has an incognito mode, so you can browse in private on the internet.
3.1.2. Additionally, cookies and passwords are deleted after you close the incognito window
3.2. Cons:
3.2.1. The single biggest problem with Chrome is lack of Add-Ons. It doesn't have a StumbleUpon toolbar, or AdBlock, or S3Fox, or some other add-ons and extensions that people have come to depend on.
3.2.2. There are some privacy concerns and there is very little trust, when it comes to Google tracking user data. Chrome has a license to track everywhere you go.
4. Apple Safari 5
4.1. Pros:
4.1.1. Safari 5's has a Reader, that lets you read an article on a site and click the small reader button in the address bar, and up slides an overlay that displays only the text of the article.
4.1.2. The bookmarks manager lets you view thumbnails of bookmarked pages as you click through them.
4.2. Cons:
4.2.1. Safari passes off a number of Mac interface conventions onto Windows users, and may not be for everybody.
4.2.2. Safari had a breach in the software in iPad, iPod,
5. Mozilla Firefox 3.6
5.1. Pros:
5.1.1. Mozilla Firefox has over 6,000 add-ons which customize and enhance your web browsing experience.
5.1.2. Firefox has tabbed browsing so you can quickly jump from site to site and open more than one website in the same browser window.
5.2. Cons:
5.2.1. Firefox lagged behind in booting up.
5.2.2. Firefox took a little more time to warm-up.
6. Explorer9
6.1. Pros:
6.1.1. IE9 has a perfect score in no less than five categories. IE9 has 100% for attributes, audio, video and xhtml5.
6.1.2. With the introduction IE9 the Redmond company moved to the front of the line in areas of interoperability and up to date web standard support.
6.2. Cons:
6.2.1. Competitor, Google Chrome 7.0.517.41 Beta, who has a perfect score in compliance and other features,are superior to IE9 in terms of getElementsByClassName support
6.2.2. The HTML5 specification is yet to be completed. The HTML5 tests in the compliance overview does not cover all technology agreed upon by the HTML WG.
7. Explorer8
7.1. Cons:
7.1.1. IE8 has security concerns and Microsoft has a poor record for fixing IE defects leaving users open to drive attacks and other forms of exploits.
7.1.2. Even with IE8's security enhancements and new features, there is a need for alternative browsers that have rich features , good security, and speed.
8. Sources
8.1. minimum 5 sources, collaborative effort; only most recent versions as shown:
8.1.1. Shorten your URLs at the following link:
8.1.2. http://bit.ly/
8.2. http://bit.ly/9xAsV6
8.3. http:http://bit.ly/9IEHQJ
8.4. http://bit.ly/zCGGr
8.5. http://
8.6. http://on.msnbc.com/biBhT3