chronic obstructive pulmonary disease(COPD)
by Willima Bryan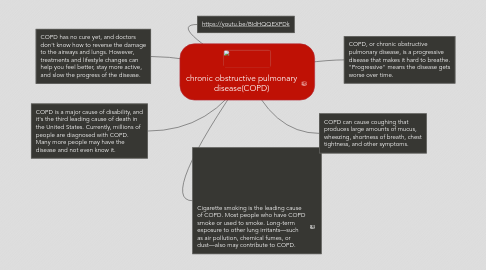 1. COPD, or chronic obstructive pulmonary disease, is a progressive disease that makes it hard to breathe. "Progressive" means the disease gets worse over time.
2. Cigarette smoking is the leading cause of COPD. Most people who have COPD smoke or used to smoke. Long-term exposure to other lung irritants—such as air pollution, chemical fumes, or dust—also may contribute to COPD.
3. COPD is a major cause of disability, and it's the third leading cause of death in the United States. Currently, millions of people are diagnosed with COPD. Many more people may have the disease and not even know it.
4. https://youtu.be/BIdHQQEXPDk
5. COPD can cause coughing that produces large amounts of mucus, wheezing, shortness of breath, chest tightness, and other symptoms.
6. COPD has no cure yet, and doctors don't know how to reverse the damage to the airways and lungs. However, treatments and lifestyle changes can help you feel better, stay more active, and slow the progress of the disease.