Karen Verdugo Gamming
by karen Verdugo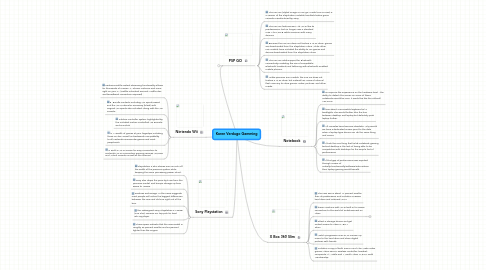 1. X Box 360 Slim
1.1. The new 360 is about 17 percent smaller than its predecessor and includes a 250GB hard drive and onboard Wi-Fi.
1.2. leaner machine with Wi-Fi built-in for easier connection to the world of entertainment on Xbox
1.2.1. New node
1.3. attach a storage device and get instant access to Xbox LIVETM Silver
1.4. Watch progressive-scan DVD movies, rip music to the hard drive and share digital pictures with friends.
1.5. Includes a copy of both Forza 3 and Alan Wake video games, Xbox 360TM wireless controller, headset, composite A/V cable and 1 Month Xbox LIVETM Gold Membership.
2. Nintendo Wii
2.1. Features Netflix instant streaming functionality allows for thousands of movies, TV shows, cartoons and more right on your TV (Netflix unlimited account, Netflix disc and broadband connection required)
2.2. • Bundle contents including Wii Sports Resort and the Wii MotionPlus accessory (black) with original Wii Sports also included, along with the Wii console
2.3. Intuitive controller system highlighted by the included motion controlled Wii Remote and Nunchuk
2.4. • A wealth of games at your fingertips including those on disc as well as backwards compatibility to all Nintendo GameCube games and most peripherals
2.5. • Built-in Wi-Fi access for easy connection to Nintendo Wi-Fi Connection gaming services WiiWare and Virtual Console as well as the Internet
3. PSP GO
3.1. The PSP Go (styled PSPgo or PSP go, model PSP-N1000) is a version of the PlayStation Portable handheld video game console manufactured by Sony
3.2. The PSP Go features 802.11b Wi-Fi like its predecessors, but no longer uses a standard USB A-to-Mini-B cable common with many devices
3.3. Because the PSP Go does not feature a UMD drive, games are downloaded from the PlayStation Store. While other PSP models have included the ability to run games and demos downloaded from the PlayStation Store
3.4. The PSP Go adds support for Bluetooth connectivity, enabling the use of compatible Bluetooth headsets and tethering with Bluetooth-enabled mobile phones.
3.5. Unlike previous PSP models, the PSP Go does not feature a UMD drive, but instead has 16GB of internal flash memory to store games, video, pictures, and other media
4. Sony Playstation
4.1. PlayStation 3 Slim shaves over an inch off the width of the previous system while keeping the same processing power intact.
4.2. Sony also drops the price by $100 from the previous model, and bumps storage up from 80GB to 120GB.
4.3. Features and Design As the name suggests, most people will notice the biggest differences between the new and old PS3 right out of the box.
4.4. the redesigned Sony PlayStation 3 120GB (PS3 Slim) remains our top pick for best Blu-ray player.
4.5. Those specs indicate that the new model is roughly 33 percent smaller and 36 percent lighter than the origina
5. Notebook
5.1. To improve the experience on the hardware level - the ability to detach the screen on some of these notebooks would be nice. It would be like the old Dell XPS 2010.
5.2. how about a removable keyboard w/ a backlight? This would further blur the line between desktop and laptop but definitely push laptop further.
5.3. All consoles have become obsolete. Why would we have a dedicated access point to the data when a laptop type device can do the same thing and more?
5.4. I think the one thing that holds notebook gaming behind desktop is the lack of being able to be competitive with desktops for the simple fact of performance
5.5. If that gap of performance was equaled through means of virtually/mechanically/software/extra silicon then laptop gaming would benefit.