LMS Global UK Ltd. Delivering products & services to HR and L & D [elearning & Measurement]
by James Hunt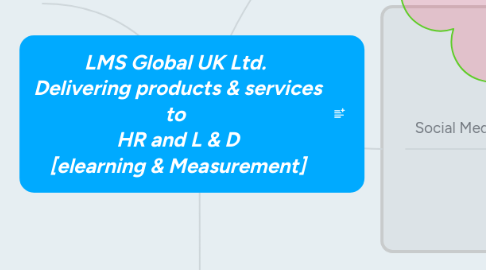 1. Social Media
1.1. Campaigns
1.2. Use animations
1.2.1. Giving Honest Feedback
1.2.2. What Not to do when managing people
1.2.3. How to manage people through coachig
1.3. Videos
1.3.1. Introduction to 360feedbackmanager
2. Learning Management Solutions - using Moode and integrating into existing enterprise systems
2.1. Biog: Affordable, Clever IT solution for workplace learning and development. - Management tools for assessing employees' skills, developing their talents and increasing their Productivity. - We share our expertise to help improve and integrate system your existing in-house system. - Clients are individuals, startup, bossinesses,non-profit,medium and large organisations
2.2. New site: http://vm.hundredandone.com/
2.3. Promotional Video:
2.4. Existing website:
2.5. Existing Client: Invatechhealth.com
3. 360 Feedback
3.1. Main Product and Service 360Feedbackmanager.com
3.1.1. Another example of Consultant Site intelligent360feedback.com in development completion end May 2016
3.1.1.1. Overcoming Issues identified with standard 360 feedback projects - by providing online training at time of feedback - by allowing the organisation to understand what is most important and relevant to its external and internal customers
3.1.2. Example Consultant Site PeopleEvaluator.com
3.1.2.1. Biog: PeopleEvaluator works with consultants to produce intelligent performance measurement solutions. Our systems can be adapted to the unique requirements of organisations from small to large.
3.1.3. Biog: 360feedbackmanager is an online administration system that manages 360 degree feedback projects. An HR Measurement tool for Performance Management.
3.1.4. 1 client - DTC International running 4 month fully managed service to Pharmaceutical company on behalf of Consultancy
3.2. PROJECT Starting next May 2016 Learning Evaluation Framework
3.2.1. Re-launching June 2016 Tracking Learning Cost Benfit
3.2.1.1. Purpose: A tool to track cost benefit of formal & informal learning. that will can provide ROI and cost benefits to Stakeholders and L& D Professionals
3.2.2. Old Verrsion
3.2.2.1. Why Learning Evaluation Framework US voice over
3.2.2.1.1. Youtube of How the product is used
4. Animated Scenarios animatedscenarios.com
4.1. Biog: We portray YOUR business scenarios through animation to help with training, coaching and conflict resolution.
4.2. Client: Universtiy of West England