THERE WILL BE SOFT RAINS
by Jack Marshall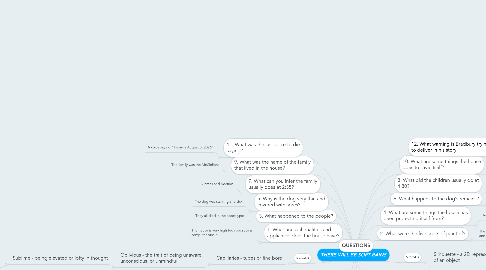 1. VOCAB
1.1. Silhouette - a 2D representation of the outline of an object
1.1.1. Paranoia - a mental disorder where people have many delusions and person conflicts
1.1.1.1. Regiment - a unit of ground forces where there are 2 or more battle groups
1.1.1.1.1. Incinerator - a furnace for burning garbage
2. VOCAB
2.1. Capillaries - tubes or fine bore
2.1.1. Oblivious - the trait of being unaware, unconscious, or unmindful
2.1.1.1. Sublime - being elevated or lofty in thought
2.1.1.1.1. Psychopathic - relating to or being affected with psychopathy
3. QUESTIONS
4. 2. What were the five spots of paint of?
4.1. The man, the woman, the children, the ball, and the thin charcoal layer.
5. 4. What are some things the house has been protecting itself from?
5.1. Intruders, fire, and dirt
6. 6. What happens to the dog's remains?
6.1. A group of mice come out and clean it up
7. 8. What did the children usually do at 4:30?
7.1. The kids play in the nursery at 4:30
8. 10. What are some things the house does to save itself?
8.1. It sends out mice groups and sprays water on fire
9. 1. What unusual qualities and appliances does the house have?
9.1. The house is very high tech because a computer runs it
10. 3. What happened to the people?
10.1. They all died in the apocalypse
11. 5. Why is the dog very thin and covered with sores?
11.1. The dog was starving and sick
12. 7. What can you infer the family usually does at 2:35?
12.1. Games and martinis
13. 9. What was the name of the family that lived in the house?
13.1. The family was the McClellons
14. 11. What was the last voice to die saying?
14.1. A voice saying "Today is Auguat 5, 2026"
15. 12. What warning is Bradbury trying to deliver in his story
15.1. The world could end some day
16. PLOT SUMMARY
17. After a radioactive apocalypse occurred, there was no trace of life. The only sound around was from a high tech house owned by a family who is long gone. Hints about what the family did was told by the house, which had a specific schedule every day. The super computer controlled the house and protected. The dog of the family, which is sick goes in the house and shortly dies. The house saw its end when a tree fell on it, causing the house to catch fire and burn down.
18. QUOTE
19. "In the living room the voice-clock sang, Tick-tock, seven o'clock, time to get up, time to get up, seven o'clock! as if it were afraid that nobody would."
20. This quote means that the house is announcing the wake up routine and nobody is left in the house to follow it.