ResearchILD & ILD Notes
by Andrea Hurley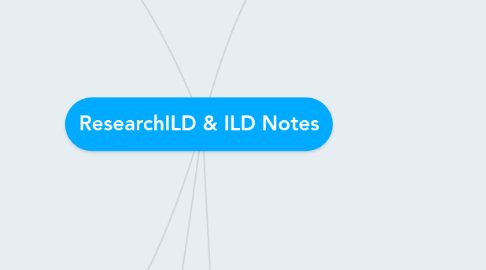 1. CURRENT MAJOR ISSUES
1.1. Managing transition with Beth leaving
1.1.1. Need for creating a succession/transition plan
1.1.2. Beth has not been behind letting Donna Kincaid know that she is leaving & that they would like for her to take on a new role (Asst. Director. and
1.1.3. Joan Steinberg tagged to be Dir. of Education
1.1.4. Staff Meeting on Apr. 27th for Beth announcing her leaving
1.1.5. Roles issues in RILD
1.2. Funding for RILD
1.2.1. GRANTS
1.2.1.1. The Boston Foundation
1.2.1.1.1. Boston Public Schools
1.2.1.2. Lexington Public Schools
1.2.1.3. Shire
1.2.1.4. Cummings Foundation
1.2.1.5. Tower Foundation
1.2.2. SMARTS
1.2.2.1. Create a strategy for business growth
1.2.3. INCREASING REVENUE FROM ILD
1.3. Clarifying System-of-Roles
1.3.1. Preparing Donna K. for transition to new leadership role.
1.3.2. Filling Finance & Operations Manager role
1.3.2.1. Salary level question
1.3.3. Filling Executive Asst. position (RILD & ILD)
1.4. Cultural & Leadership Issues
1.4.1. Attitude issues w/Michael Greschler, Dir. of SMARTS Programs.
1.4.1.1. Since being made director, he's been behaving in ways he hasn't before; e.g, making disrespectful comments to Lynn with others present
1.4.1.2. Some sort of mindset issue. May be related to taking on new role yet not having the funds to be able to do what he wants.
2. CASE FOR CHANGE
2.1. A VISION for a better future.
2.2. The URGENT NEED for change.
2.3. The JOURNEY that will be required.
2.4. NEXT steps.
2.5. BENEFITS to key stakeholders.
2.6. The CHOICE by key stakeholders.
3. GOAL: Ensure baseline agreement for moving forward. Alignment around the following elements:
4. 7 PRINCIPLES FOR HIGH PERFORMING TEAMS
4.1. Purpose
4.2. Focus
4.3. Mindset
4.4. Roles
4.5. Interdependencies
4.6. Strategies
4.7. Implementation
5. 6 Steps To Leading Transformational Change
5.1. Choose to Lead
5.1.1. You choose to be the source for a culture of accountability – the first step on any change journey.
5.2. Creating a Case for Change
5.2.1. Create a presentation, script or communication plan that ignites urgency and buy-in for change you envision.
5.3. Building a Guiding Coalition
5.3.1. Build and leverage a core group of trusted allies committed to following this roadmap towards the ideal future state.
5.4. Conduct a Gap Analysis
5.4.1. Assess key conditions for success that allow primary constraints to be easily identified in business cultures and business models.
5.5. Map Milestones
5.5.1. Identify milestones on the journey towards your ideal future state.
5.6. Influence & Implement
5.6.1. Together build and leverage alliances to overcome resistance and ensure alignment on a shared journey – executing towards the next milestone.
6. 6 Steps to Create Buy-In for Getting Big Things Dne
7. GAP ANALYSIS: Identify Primary Constraint to Team Effectiveness
8. 1. What is the current state of your organization? 2. What is the ideal future state? 3. What are the gaps between current state and ideal future state? 4. What are the priority issues to resolve to move to higher level of performance?
9. BUSINESS STRATEGY
9.1. Business Triangle
9.1.1. DEVELOP
9.1.2. SELL
9.1.3. DELIVER
9.1.4. SUPPORT
10. Core logic for business strategy & organizational design
11. GAP ANALYSIS: Identify Primary Constraint to Growth