tools & web apps
by
Kai Gui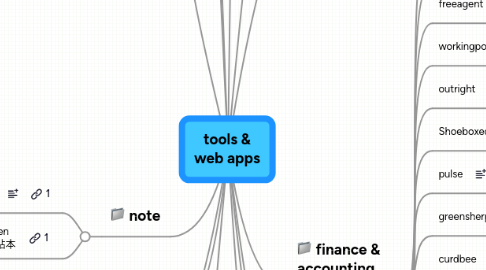 0.0
stars - reviews range from
0
to
5
tools & web apps
Goplan is online project management and team-based collaboration done right. Goplan lets you keep track of your projects and collaborate with your colleagues securely through an intuitive user interface. We also have an ad-supported free plan that lets you manage 1 projects with 2 users. 功能较多,比较强大
Projects Manage Themselves with Basecamp.
Speckle is a web application that exists solely to help manage projects, with an emphasis on the smaller tasks. Speckle lets you manage your to-dos with multiple check-boxes per item! project->list->task模式,每个task都包括project设定的多个stage,通过勾选每个task的stage衡量list完成百分比,再衡量project的完成情况
不支持中文 有个人版和公司版 界面清爽 个人版   net worth 净资产功能可以看到资产负债的情况, 可split交易明细 似只能引入交易记录,无手动添加功能 公司版 invoice send功能 功能比较完善 报表强大 没有存货帐  
Outright is for people who don't want to record expenses—or miss deductions, deal with bookkeeping, or think about what to send the IRS but DO want to be instantly organized and ready for tax time, have an up-to-the-minute snapshot of how business is going, and use a simple and free accounting solution. 看似不错,界面清新漂亮 似乎只支持US,需提供银行账户信息
Pulse is the easy way to manage your cash flow online, allowing you to quickly manage and evaluate your income and expenses.
Easy, fast and secure online billing experience. CurdBee is all your billing in one convenient location. Estimate, invoice, and get paid - it's that simple.
individual
online to do list and task management 可與google帳戶連接,用google帳戶登陸
Get things done and turn your time into money. Track time with a single click, switch easily between different tasks and create reports.  
TeuxDeux is a simple, designy to-do app and the first collaboration between studiomates swissmiss and Fictive Kin. If you like making to-do lists, you will love TeuxDeux. The idea was to build a bare-bones, but visually compelling and highly usable to-do app: Use the free browser-based TeuxDeux at work/home and then take your to-dos on the road with the iPhone app
A simple time tracking solution that you need
An easy to use, online to-do list. Get organized, stay motivated, and be more productive.
Ta-da List is the web's easiest to-do listtool. Make lists for yourself or share them with others. It couldn't be simpler.
We also have a Free Plan which includes: 3 Forms • 10 Fields/Form • 50 Saved Entries/Form • 1 User
信息笔记本
需要domin,有免费版
presentation
Comunicate
web-based customer support software
Make Lists. Not War. 条理化清单
在线阅读.pdf等ebook的好工具,简单易用的放大缩小功能,优秀的阅读体验
Your Music in the Cloud All on the Web, No Software - Software is an outdated form of apps. The new era of applications is run on the web via a Web Browser. This allows complete cross browser compliance and instant access, it also allows instant app updates without downloading or re-installing anything. Listen to your music over the cloud.   在线播放软件,先上传歌曲,再播放 那直接找在线播放网站不就行了吗?似乎没什么用处  
Pipeno is a professional publishing tool for journalists, writers, and bloggers, to help them create communities, share their passion, and make money.
Minus helps you create and share galleries online. Drag your pictures onto this page, and we'll do the rest.
New Idea