Albert's Mind Map Vocab Project
by
Albert Haynes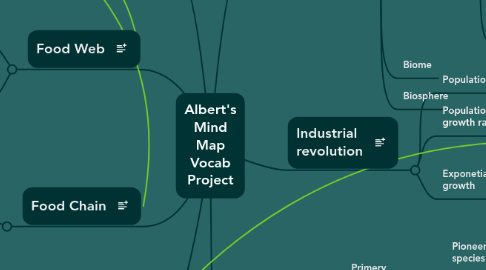 0.0
stars - reviews range from
0
to
5
Albert's Mind Map Vocab Project
Levels of Organization
Organism
Population
Community
Ecosystem
Biome
Biosphere
Trophic Levels
10% of the energy from the plant/animal passed on to its consumer when it is eaten.
Producer
Primary Consumer
Secondary Consumer
Tertiary Consumer
tertiary consumers end up with .1% of the energy.
Food Chain
A food web is the best way to show an ecosystem. It show a lot of animals and what they eat. It is a good way to show how energy is transfered because it shows that each animal eats a variety of things and usually eaten by a variety of things.
Ecosystem
Food Web
A food web is a simple but inaccurate way to show and ecosystems food chain. It only shows one thing that each animal eats, when they really eat a variety of animals.
Ecosystem
Biodiversity
Ecological succession
Primery succession
Secondary succession
After primary succession, If a disaster happens and all of the species are gone then secondary succession occurs.
Limiting factors
black plague
food
prey
water
weather
polution
disease
Water Polution
Industrial revolution
Advancements in medicine and health care greatly increased the average life expectancy.
Population Growth
Population growth rate
Exponetial growth
On a graph exponential growth looks like a J-curve.