ENGLISH PROJECT MENTAL MAP
by GeRguez Savage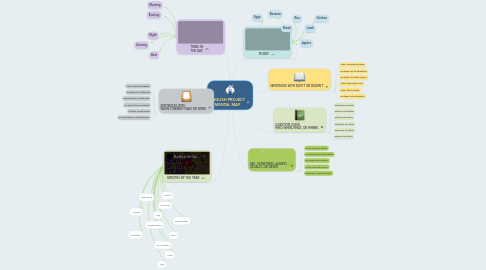 1. FOODS
1.1. Apples
2. Morning
3. Evening
4. Evening
5. Nigth
6. TIMES IN THE DAY
7. Beef
8. Chicken
9. Bread
10. Bananas
11. Eggs
12. Rice
13. Lamb
14. MONTHS OF THE YEAR
15. January
16. February
17. March
18. April
19. May
20. June
21. July
22. August
23. September
24. October
25. November
26. December
27. SENTENCES WITH DON`T OR DOESN`T
27.1. I don't remenber his name.
27.2. He doesn't do his homework.
27.3. He doesn't bring the camera.
27.4. I don't know what is this.
27.5. I don't like chocolate.
27.6. He doesn't play the guitar.
28. QUESTION USING WHO,WHEN,WHAT, OR WHERE.
28.1. Where do you work?
28.2. Who is your brother?
28.3. What is your name?
28.4. Where are you from?
28.5. Where are you from?
28.6. When is your class?
29. USE SOMETIMES ,ALWAYS , USUALLY, OR NEVER
29.1. I never wash my clothes.
29.2. He usually wear a black jacket.
29.3. We always go to cinema .
29.4. I never go to the church .
29.5. Sometimes I wash the plates.
30. SENTENCES WITH WASN´T,WEREN´T,WAS OR WERE.
30.1. I was not a good student.
30.2. We were not old friends.
30.3. The pencil was on the desk.
30.4. We weren't busy yesterday.
30.5. It wasn't a good movie.
30.6. My uncle wasn't a good swimmer.