Siberian Tiger By : Eileen
by
Ellie Sam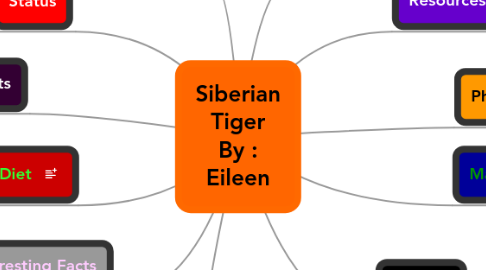 0.0
stars - reviews range from
0
to
5
Siberian Tiger By : Eileen
Habitat
Space
range of Siberian Tigers between 7 000-10 000 km2
Water
drinks about 70 gallons or about 250 L per day.
Biome
Forests
Lives in low mountain tops.  Lives near mountain river valleys  Lives pads of pine or oak trees Lives near decidous forests. Lives in areas with low snow coverage.
Action Plan
Government Plans
Chinese Government made a tiger park to increase populations By the end of 2010, would be 1 or 2 thousand more siberian tigers.
My Plans
Help raise money to provide more for the Tiger Park in China Raise awareness Tiger fundraisers
Status
Endangered
Tigers already extinct on western side of Earth  
Biology
Weight
Females:100–167 kg (220–370 lb) Males:180-306 kg (400-670 lb)
Height
Females:240–275 cm (94–108 in) Males:270–330 cm (110–130 in)
Reproduction
Siberian Tigers mate around 4 years Takes 3 to 3 1/2 months for the cubs will be born Litter is usually 2 to 3 cubs Litters can be as large as 6.
Life Cycle
about 20 years in the wild about 25 years if in captivity
Physical characteristics
orange and black coat of fur. Summer: Bright & Corase Winter:Dull, soft, & silkier
Threats
Humans
vd
Genetic
Less males or females which slow down the rate of mating.
Diet
deer elk boar small fish hare rabbit Siberian Tigers eat as much as 60 to 200 kg of meat!
Interesting Facts
Speed
Siberian Tigers can run as fast as 80 km, which is 16 km slower than a cheetah Sibererian tigers can run and walk, as well as climb, jump, crawl, and swim!  Siberian Tigers can leap up to 3 m in one bound(jump)
Sound
You can hear a Siberian Tigers roar 1.6 km away!
Sight
Siberian Tigers can see in the dark 5 times better than humans. They also see in colour!
Markings
Some Siberian Tigers have the Chinese mark wang, which means king.
Teeth
Siberian Tigers have the longest teeth in the cat family in this time.