Change in Culture from 1914 to 2016
by Linda Zhang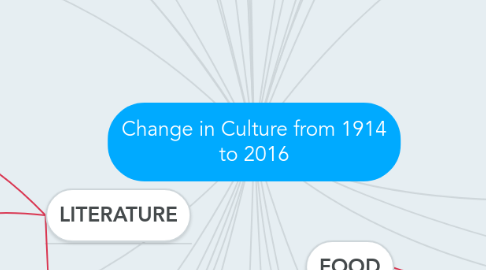 1. Cultural Contributions
2. Immigrants from Europe and their descendants greatly influenced the diet in many provinces.
2.1. Settlers and traders from England influenced cuisine in early English Canada in the Maritimes and Southern Ontario, while settlers from France influenced the cuisine of southern Quebec, northern Ontario, and New Brunswick. Scandinavian and Dutch immigrants influenced southwestern regions of Ontario.
2.2. Prairie provinces had immigrants from Ukraine, Germany, and Poland, which led to many culinary changes in diet. Russian immigrants also affected the food culture in the Prairies, as well as British Columbia.
2.3. The Waterloo region in Ontario, and southern Manitoba were influenced by traditional Mennonite and Germanic cookery.
2.4. Maritime provinces' cooking was influenced by British and Irish cooking - a preference for salt-cured fish, beef, and pork. Ontario, Manitoba, and British Columbia still retain similar British cooking traditions.
3. Traditional Aboriginal cuisine of Canada was a mixture of wild game, foraged foods, and farm produce. Each region of Canada with its own First Nations and Inuit people used their local resources and custom preparation techniques.
3.1. Maple syrup, one of the most commonly consumed foods of Aborignal origins, was first used by Aboriginal people from Eastern North America.
3.1.1. Canada is the world's largest producer of maple syrup.
3.2. In western and northwestern Canada, Pacific salmon, as well as other marine mammals, was a main food resource for First Nations peoples. Whipped soapberry is consumed as ice cream or cocktail drink.
3.2.1. Salmon were caught during spawning and consumed fresh, or smoked dry to create a jerky.
3.2.2. Soapberry drinks are known for beign kidney tonics.
3.3. Inuit peoples in the Arctic consumed fish, land and marine mammals, and plant products.
3.3.1. Fish are eaten boiled, fried, or in dried forms. Meats were consumed fresh or prepared - allowed to ferment into products with soft, cheese-like consistency. Snacks contained whale skin and blubber, sometimes dipped in soy sauce. Plant products include the plant nicknamed the "Eskimo potato" and other "mousefoods".
3.4. Foods like bannock were popular with First Nations and the Inuit, due to the exchange of cultures with Scottish fur traders. Aboriginals were began using powdered milk and bologna in their diets.
4. National foods of Canada include poutine, butter tarts, Montreal-style bagels, salmon jerky, perogies, ketchup chips, California rolls, and Kraft Dinner products
5. Along with the immigrants from Europe and Asia, and the Caribbean, cuisines have been mixed together to form Canada's unique cuisine
6. Canadian cuisine varies depending on the region of the country
7. Prestigious Canadian awards
7.1. Books in Canada First Novel Award, for the best first novel of the year
7.2. Hilary Weston Writers' Trust Prize for Nonfiction, for best work of non-fiction
7.3. Gerald Lampert Award for the best new poet
7.4. Lieutenant-Governor's Award for High Achievement in the Literary Arts
7.5. Quebec Writers' Federation Awards, for the best fiction, non-fiction, poetry, children's and young adult literature, and best English-French translation
7.6. 3 Day Novel Contest, an annual literary marathon
8. Late 20th century to 21st century
9. By the 1990s, Canadian literature was viewed as some of the world's best
9.1. Many authors won international awards
9.1.1. In 1992, Michael Ondaatje became the first Canadian to win the Booker Prize for his book "The English Patient"
9.1.2. Carol Shields won the 1995 Pulitzer Prize for Fiction for "The Stone Diaries"; she won the Orange Prize for her novel "Larry's Party"
9.1.3. In 2000, Margaret Atwood won the Booker Prize for "The Blind Assassin"
9.1.4. Alistair MacLeod's "No Great Mischief" won the 2001 IMPAC Award
9.1.5. Yann Martel won the 2002 Booker Prize for "Life of Pi"
9.1.6. In 2008: Rawi Hage won the IMPAC Award for his book "De Niro's Game", and Lawrence Hill won the Commonwealth Writers' Prize for his "Book of Negroes"
9.1.7. Alice Munro became the first Canadian author to win the Nobel Prize in Literature for her short stories; she had already won several awards such as the Governor General's Award, and the man Booker International Prize
9.1.7.1. After WWII, few books were considered to have any literary merit. Munro was among the authors who brought Canadian literature to the world stage
9.2. The best known living Canadian writer is Margaret Atwood, a novelist, poet, and literary critic.
9.3. Great 20th century authors include Margaret Laurence, Gabrielle Roy, and Carol Shields.
9.4. Well known children's fiction writers include L.M. Montgomery, author of the Anne of Green Gables series, and Monica Hughes, the author of several acclaimed science fiction stories including"The Story Box", and "The Dream Catcher"
10. Canada's first nationwide music awards began in the music industry trade magazine RPM Weekly, in 1964. The first ceremony was held in 1975.
11. several developments following international trends; contemporary art became popular
11.1. Ian Wallace was one of the most influential figures in growing these trends
11.1.1. his teaching and exchange programs at the former Vancouver School of Art
11.1.2. visits from famous artists such as Lucy Lippard and Robert Smithson
11.1.2.1. his pupils - younger artists - to conceptual art
11.2. Regina Five, a group of five abstract painters became known after displaying their works in the National Gallery of Canada's 1961 exhibition
11.3. Spadina Avenue in Toronto became a hotspot for artists who would later define the "Toronto look"
11.3.1. Gordon Rayner, Graham Coughtry, and Robert Markle
11.4. Michael Snow became successful internationally due to his interdisciplinary artistic practice
11.5. AA Bonson, Felix Partz and Jorge Zontal became internationally successful, under the name of General Idea
11.6. David Askevold greatly contributed to the development of the conceptual art movement through his video art and photography
11.7. Janet Cardiff and George Bures Miller, who represented Canada at the 2001 Venice Biennial, has been well known for their photography
12. World War I led to many Canadian -written popular songs, many of which had lasting commercial success
12.1. The military produced music such as marches and bugle calls.
13. the 1960s
14. 1920 - 1933:  the Group of Seven is the first art group with a distinctly Canadian style
14.1. produced paintings of many sizes
14.2. portrayed Canadian landscapes/wilderness
14.3. expanded in the 1930s to become the Canadian Group of Painters, made up of 28 artists from across the country
14.4. Emily Carr and artists such as Tom Thomson were associated with this group, but weren't actually members
15. ART
16. MUSIC
17. Early 20th century
18. 1938: the Eastern Group of Painters formed in Montreal Quebec
18.1. common interest was painting
18.2. had an art for art's sake aesthetic, unlike the nationalism of the Group of the Seven and the Canadian Group of painters
18.3. many artists felt that artists in Ontario defined Canadian art; the Eastern Group of Painters formed to restore confidence in these painters
18.3.1. Canadian art became varied again in purpose, method and geography
19. 1930s, Canadian painters developed a variety of very different styles
19.1. Emily Carr became known for paintings of totem poles, native villages, and forests
19.2. David Milne became known for his winter landscapes
19.3. William Kurelek became known as a "prairie painter" for his famous paintings
20. World War II
20.1. government support grew, and many art schools and colleges/universities were established
20.2. abstract art became more popular among Canadian artists
20.3. Canadian sculpture was enriched by Inuit carvings of walrus ivory and soapstone
20.3.1. scenes from their myths and legends
20.3.2. objects and activites of their daily lives (modern and traditional)
21. Before gramophones were widely used, Canadian songs and other music were published as sheet music or in local newspapers such as the Toronto Empire or The Montreal Gazette
22. Robert Nathaniel Dett was one of the first black Canadian composers from the early years of the Society of Composers, Authors, and Publishers
22.1. He performed at Carnegie Hall and at the Boston Symphony Hall as pianist and choir director.
23. Canadian songwriters also created many popular songs
24. Murray Adaskin was a violinist, composer, conductor, and chamber musician.
24.1. From 1923 to 1936, he was an orchestral and chamber musician for the Toronto Symphony Orchestra.
24.2. He was a composer-in-residence at the University of Saskatchewan, the first in Canada to be appointed as such.
25. Most Canadians to swing/jazz music during the Great Depression
25.1. the evolution of swing dancing is reflected in its many names - Jive, Jitterbug, Lindy, etc.
25.2. Guy Lombardo created his easy listening band with his brothers and firends - "The Royal Canadians"
25.2.1. they reached international success starting in the mid-1920s: selling 250 million phonograph records
25.2.2. they were the first Canadians to have a #1 single on Billboards top 100
26. after the Great Depression, Canadian pop music remained equally as successful as American pop music
26.1. Oscar Peterson, jazz virtuoso from Montreal, was considered one of the greatest jazz pianists of all time
26.1.1. He released over 200 recordings, won eight Grammy Awards and other awards and honours, and performed in thousands of concerts worldwide
26.1.2. His career as pianist in duets, trios, quartets, and as composer and teacher, lasted more than 60 years
26.2. several Canadian singers who specialized in opera singing were invited to perform in major international opera houses
26.2.1. the most notable singer being contralto Portia White, who was known for her voice and stage presence
26.2.1.1. as a Canadian female of African descent, her popularity paved the path for future talented opera singers
26.3. In 1958, Canada's first rock and roll idol Paul Anka auditioned for Channel ABC with his song "Diana", which reached #1 on the US Billboard charts almost immediately
26.3.1. "Diana" went on to be one of the best selling songs on vinyl record ever
26.4. Ronnie Hawkins, rockabilly pioneer born in the US, came to Canada in 1958 and became a key player in Canadian blues and rock music
26.4.1. he was inducted into Canada's Walk of Fame on October 4th
26.4.2. later on, he was also inducted into the Canadian Music Industry Hall of Fame
27. Canada produced some of its most influential singers during this time
27.1. Neil Young has been inducted into the Canadian Music Hall of Fame, Canada's Walk of Fame, and the rock and Roll Hall of Fame
27.2. Leonard Cohen was inducted into the Canadian Songwriters Hall of Fame, the Canadian Music Hall of Fame, and is also a Companion of the Order of Canada - the highest level of the Order of Canada
27.3. Joni Mitchell, a folk music legend from Alberta, is in both the Canadian Music Hall of Fame and the Rock and Roll of Fame
27.4. Canadian Brass, a group of classical musicians, is said to have reshaped presentation styles for classical artist
27.5. the progressive rock band Rush produced 25 gold records and 14 platinum records, and is one of the best-selling ensembles ensembles in history
27.5.1. on  April 18 2013, they were inducted into the Rock and Roll Hall of Fame
27.6. French-Canadian singer Celine Dion became best-selling music artist, and surpassed 175 million in album sales worldwide
28. the CD replaces the vinyl album and compact cassette because it is much cheaper to manufacture and/or buy
29. Canadian artists with global record contracts such as Drake and Justin Bieber set new record in terms of success, dominating both Canadian and American charts
30. LITERATURE
31. Father Henri Casgrain became one of Canada's first literary theorists, stating that literature should portray proper Catholicism.
31.1. A few authors disagreed with his idea, and wrote more interesting works
31.2. The debate on the true purpose of literature continued until the 1930s, when a new group of author, educated at the University of Laval and the University of Montreal, began writing books centred upon psychological and sociological foundations.
31.2.1. Among these authors, Gabrielle Roy and Anne Hebert began to gain international acclaim, which had never occurred with French Canadians authors before.
32. Following WWII, the industrialization in the 50s, and the Quiet Revolution of the 60s, French Canadian literature began to cover more topics, and attracted more attention.
32.1. Acadian novelist Antonine Maillet won the Prix Goncourt - an award for the most imaginative prose of the year
32.2. Nicole Brossard wrote experimentally in formalist style; several authors followed suit
32.3. Roch Carrier wrote the well-known story "The Hockey Sweater" in 1979, which emphasized the cultural and social tensions between French and English speaking Canada
32.3.1. Originally written in French, this story was translated into English a few years afterwards. It has since been made into a film.
33. Writers like Mavis Gallan, Mordecai Richler, Norman Levine and Irving Layton contributed to the Modernist movement
34. In 1967, Canada's centennial year, the national government vastly increased funding to publishers and presses throughout the country
35. FOOD
36. Most Chinese labour workers who helped construct the Canadian Pacific Railway was completed, opening small restaurants or working as cooks in camps, canneries, or as private chefs.
36.1. They prepared variations on traditional Chinese food.
36.2. A form of buffet called the Chinese smorgasbord developed in what would become Vancouver, British Columbia.
36.2.1. Soon after the creation of this type of buffet, restaurants began offering take-out service, which became very popular among Canadian citizens.
36.3. In the Chinatowns of major cities such as Toronto and Calgary, many authentic Chinese restaurants opened.
36.3.1. Chinese food was well liked because it citizens didn't know how to make it.
36.3.2. Soon, Chinese food became a staple cuisine in most cities.
36.3.2.1. For example, children in British Columbia use chopsticks just as well and as often as forks and knives.
36.3.2.2. Some Chinese recipes have become very frequently used in Canadian households, such as dumplings, chow mein, sweet and sour pork, and chop suey.
36.3.2.3. expensive dishes such as shark fin, abalone, lobster, jumbo shrimp, sea bass, squid, and sea cucumber have become common dishes used on formal occasions, such as graduations or weddings.
36.4. Chinese food beliefs have also influenced Canadian cuisine. A large number of customers also believe these cuisine related superstitions.
36.4.1. For example, eating a whole fish on New Year's Eve will bring fortune for the following year.
36.4.2. Eating noodles on one's birthday is said to bring longevity. Eating hard-boiled eggs on one's birthday will bring good luck.
36.4.3. A whole pig means luck and completeness in the Chinese culture.