My Purpose
by
Elizabeth Faulcon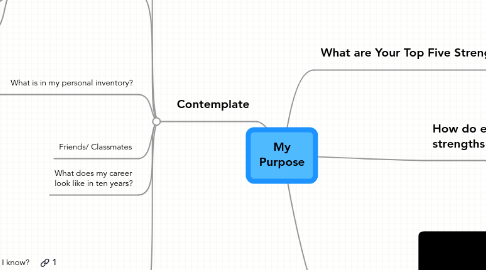 5.0
stars -
9
reviews range from
0
to
5
My Purpose
How does your life purpose connect to all the areas of your life?
Personal
Who I am, What skills I want to use, What I am looking for, How you can help me
How do each one of these five strengths connect to your life?
The best way to prepare for an interview is to practice. General Questions/ Fit Questions Goal: Convey a high-level picture of your experience and interests. Demonstrate why you are interested and qualified in the specific position, function, industry, and/or organization. Tip: Practice "walking through your resume" out loud. Your response shouldn't take more than 3-5 minutes. Also practice your "story," i.e. why you are a good fit for the role, both in skills and interests. Behavioral Questions Goal: Provide concrete evidence that you a good fit for the position. Tip: Prepare some typical answers ahead of time. Use CAR to frame your response. •Context: What was the need or problem at hand? •Actions: What did you (not the group) do? •Results: What was the outcome? Technical Questions/ Case Interviews Goal: Demonstrate specific knowledge or skills relevant to the role, on the spot. Tip: Seek out specific advice on these questions from people who have been through the process before, then prep and practice! Your Questions Goal : Learn more about the organization and the role. Demonstrate interest in and knowledge of the organization. Tip: Always ask for the interviewer's business card or contact info. Also, always ask what the next steps are in the hiring/selection process.
Contemplate
How happy am I right now?
What do I like best about my life?
What about my life do I like the least ?
what is lacking or missing from my life?
What experiences do I have?
What training or education do you  have currently? What training and education do you need?
paid/unpaid work experience
hobbies
What is in my personal inventory?
passions
skills & talents
values
What does my career look like in ten years?
How important is each of these aspects of a job relative to the others?
Connect
Who do I know?, Family, Friends/ Classmates, Alumni, Faculty, Organizations and Clubs, Co-workers
Career interview, Outreach letter, People to talk to, Organizations to investigate, Leading the conversation
What are Your Top Five Strengths ?