Wacom Dock app
by
Sammy Dekeijne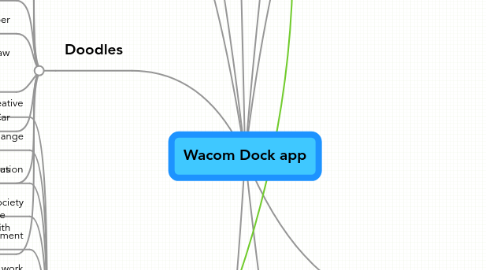 0.0
stars - reviews range from
0
to
5
Wacom Dock app
Writing
Typo
Custom Handwriting
Post-Crossing
Themes
Pen pals
Stories
Sharing Factors
Laughter
Shock
Surprise
Inspiration
Cuteness
Originality
Nostalgia
Competition?
Music
Piano hero app: Play piano songs and compete with the community (Think of Guitar hero)
Lead Orchestra app.
Music mash up app!
Transform your voice by drawing a line in the audio
Music Quiz app.
Music share app.
Draw out melody lines for different instruments (fatter lines==louder) (*)
Cooking
Slicing vegetables
Mix your Cocktails app
Coffee App.
Recipe sharing (make your own cooking recipes in the app and SHARE)
Doodles
puppets
animation
sketching lessons
Trace the drawing app: learn to draw by drawing over other drawings with instructions
Making your own wallpaper
Custom Comic book app. Cut, draw and paste comics in a whole new story
Draw a rocket / Car
Versus
Top-down driving game where you have to dodge objects with the pen
Traveling
Photoalbum: scrapbook!
Road trip! A travel quiz app! In which you travel the world virtually and compete with other community members in a travel quiz. Answer questions right and you continue to an other place (includes also information about the places) (*)
Creative
Make photo collages (cut & paste)
Origami
Design interactive environments
Design post cards
logo design app
Make panoramas of your photos
Quick'n'Dirty little movie edit app. (cutting, pasting small videos, make animations, etc)
Virtual crafts design app. (cut, paste, paper, carton, color, glue things together, find materials, make something hand made with it) (*)
Make your own fashion line (draw, cut, paste, sow, etc)
Other
Navigate characters by tilting the world (Rocoloco) by using gestures. Help characters by drawing & erasing
Snow ball fight!/ Snow games
Virtual museum app
Panda chat app. Let Bamboo community communicate through this app.
Create your own Bamboo application app. Send in concepts and designs in an easy way. (Dragon's Den? The best idea wins?)
RSS feed share app (different gesture for browsing through the rss feeds)
Brain training/IQ app (Person gets a set of questions/assignments to do and compare results with others
Kill your darlings
Dance app. Make dance moves by making different pen tool gestures. Do a dance off with friends or create your own dance sequence and share it with community. (*)
Generation Y
Creative
Change
Innovation
Care about Society
Environment
Volunteer work
Non-profit, socially involved in causes
flexible
Knowledge of technology
Meaningful experiences
Fun
Optimistic
Social
Social networks
Family & Friends
Image & Status is important
Travel
Discover
Authenticity
Brands
Individuals
Independent
Personal Growth, self-learning
Idealistic