Sistema Digestivo
by Ana Flores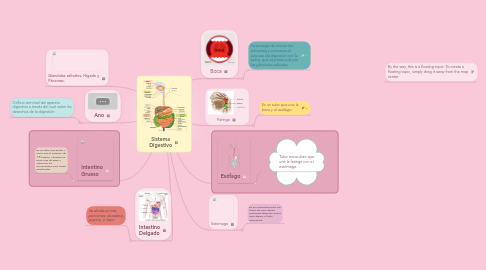 1. Glandulas salivales, Hígado y Páncreas.
2. Estómago
2.1. Es un ensanchamiento con forma de saco donde participan distintos ácidos para digerir el bolo alimenticio.
3. Faringe
3.1. Es un tubo que une la boca y el esófago.
4. Boca
4.1. Se encarga de triturar los alimentos y comienza el proceso de digestión con la saliva, que es producida por las glándulas salivales.
5. By the way, this is a floating topic. To create a floating topic, simply drag it away from the map center.
6. Esófago
6.1. Tubo musculoso que une la faringe con el estómago.
7. Intentino Grueso
7.1. Es un tubo más ancho y corto que el anterior, de 1,5 metros. Absorbe un poco más de agua y almacena los excrementos para luego expulsarlos.
8. Intestino Delgado
8.1. Se divide en tres porciones: duodeno, yeyuno, e ileon.
9. Ano
9.1. Orificio terminal del aparato digestivo a través del cual salen los desechos de la digestión