To what extent are psychopaths and sociopaths different and how do they affect society?
by Ivan Sevilla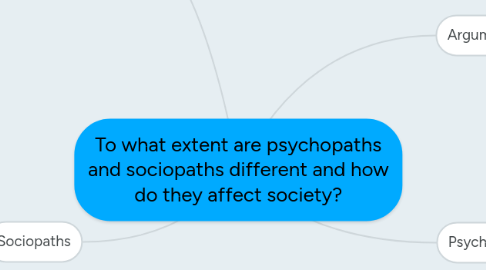 1. Argument
1.1. Psychopaths are able to control their lives better than sociopaths and have a better chance in living a better life.
1.2. It causes people in the world to be scared and can affect them if they are to close to psychopaths and sociopaths because they can easily lose their temper and do violent things to others they are near to or possibly kill them.
2. Psychopaths
2.1. They have a hard time forming emotional attachments with others.
2.2. Psychopaths don't feel guilty towards their bad behavior even if they hurt others feelings.
2.3. Sometimes they can  be seen by others as being trustworthy, holding steady, normal jobs.
2.4. Some have families and loving relationships with a partner and are very educated.
2.5. When it comes to making any criminal activity, they plan what to do so they don't get caught, also have back up plans if it doesn't go out the way they want it to go.
3. Counterarguments
3.1. Sociopaths and psychopaths are very similar in many ways.
3.2. Sociopaths and psychopaths both suffer from a disorder, which can be treated if properly diagnosed.
3.3. The symptoms in both cases begin to happen at the age fifteen years old.
3.4. They are both very dangerous to be around when they are not in a good mood because they both cause or do violent things to others and will not care about what happens.
3.5. Both sociopaths and psychopaths commit crime because they are motivated by greed or revenge.
4. Sociopaths
4.1. Unlike psychopaths, sociopaths don't have a long-term jobs or have much connection with their family life.
4.2. When sociopaths do any criminal behavior they don't plan anything and not seem to care about the consequences.
4.3. Sociopaths lose to much control of themselves that they're not able to control their lives and not be able to live a normal life like others.
4.4. Sociopaths tend to leave to many clues for every criminal activity they do and always seem to get caught.
4.5. Sociopaths are filled with guilt and sociopaths are impulsive, hot-tempered and they may form attachments to some people or groups