COMPUTER WORKSTATION : This form of technology is the most common found in classrooms as it is versatile by allowing for multiple applications to learning, this is essential for today's teachers to address the learners social surroundings as technology has become a normal social function in many elements of life (Lever-Duffy & McDonald, 2015).
by Aaron Durant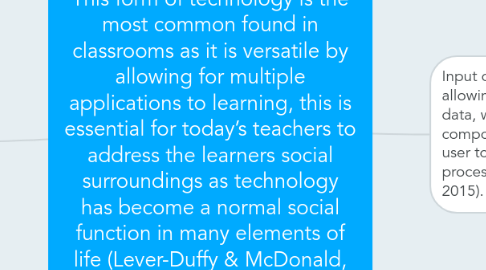 1. Output Devices
1.1. Monitor (This is the device used most and has countless benefits, however must be cleaned often and is very fragile)
1.2. Projector (Terrific for presentations and other video-rich activities, but expensive and can be a fragile device)
1.3. Printer (Multi-use for everyone, assignments and other help-aids, requires ink that can be expensive)
1.4. Sound or Video Card (Provides richer video/audio but must be updated and can also become damaged and unusable)
1.5. Headphones (Great for individual audio, however can be easily damaged or lost)
1.6. Speakers (While providing group audio they also could be used excessively loud or be damaged by excessively loud volumes)
2. Input Devices
2.1. Digital Camera (Great for images such as from school trips, easy to lose and fragile)
2.2. Keyboard (Ideal for typing skills and much more, wearable item and eventually must be replaced)
2.3. Mouse (Easy to use pointing device, however, another wearable item that must be replaced)
2.4. Mic (Great for communication and recording, another wearable item that eventually must be replaced)
2.5. Pen/Stylus (Great for all touchscreen operations, however very easy to misplace)
2.6. Touchscreen (Offers rich interaction ability, however can be a very expensive device and is very fragile)
2.7. Web-cam (Great for interactions with video/audio which could be used for students of differing regions to collaborate on studies, however also could be a security risk and is fragile)
3. Hardware
3.1. Ethernet Port (Secure and faster connections)
3.2. Hard Disk Drive (Critical storage such as operating system which must be kept updated)
3.3. USB (Multiple uses for a myriad of devices to interface)
3.4. CD-ROM (Multiple uses for copying and running programs)
3.5. External Hard Drive (Good for storing large amounts of data, however must be careful the data is not corrupted)
4. Software
4.1. Operating System (An updated system will be compatible with more future programs)
4.2. Microsoft Office (Assists student's in writing, database operations and more)
4.3. Classroom Management Software (Great benefit to both teacher/learner but if not already integrated it may be expensive)
5. Hardware is the input of raw data that processed for the output of information; hardware is any physical device, while software is a collection of codes that has an information output to the user(s) (Lever-Duffy & McDonald, 2015).
6. Input devices are any device that allowing users to enter commands and data, while output devices are components of hardware that allow the user to be accessible to the information processed (Lever-Duffy & McDonald, 2015).