Our ideal local government
by Kellie Adlam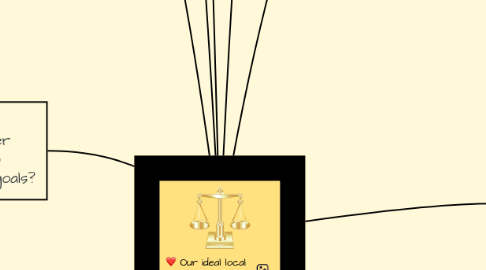 1. Our presentation format
1.1. Dream/nightmare
1.2. Dreamer is excited about being on a merger team
1.3. Fantasises about wonderful things a merger could achieve
1.4. But the dream is shattered with "the way things have always been done"
1.5. Taylor Hansen cameo
2. HELEN How will you determine your community's needs?
2.1. Technology - to engage young people - get to vote within the day HA
2.2. Face2Face workshops HA
2.3. Written submissions HA
2.4. Mutli touch points - easy to use technology, clear and transparent HA
2.5. Take advantage of data available (census, google...?)
3. HELEN How will you meet the community's needs?
4. EMMA Will you partner with anyone to achieve your goals?
4.1. Federal govt - partner through ministries
4.2. Private sector
4.3. Community groups
4.4. Charities
4.5. Developers
4.6. Schools
5. EMMA What role will your community play in your government?
5.1. Participatory democracy
5.1.1. COmmunity is the voice
6. KELLIE What will your governance structure look like?
6.1. Council mergers take Council to level of "regional government". State government becomes redundant and Councils partner directly with federal government.
6.1.1. Funding model?
6.1.1.1. Combination of rates and taxes?
6.1.1.2. Progressive tax model?
6.1.2. How brought about...?
6.1.2.1. Through merger process we have banded together and petitioned all levels of government and got agreement to change to constitution.
6.2. Professional, paid, de-politicised governing body that represents the communities in terms of demographics and interests
6.2.1. Popularly elected Mayor
6.2.2. Committees and/or special interest community groups report to and advise individual Councillors
6.2.2.1. Strategic reference groups
6.2.2.2. More resilient - people more engaged
6.2.2.3. Committees (youth, etc.)
6.2.3. Similar to ministers for specialist areas
6.2.3.1. Minsiter for heritage
6.2.3.2. Minister for transport
6.2.3.3. Ministers match between federal and regional levels
6.2.4. Elections include a mandatory "report-card" with candidates qualifications, experience and vision
6.2.4.1. No political allegiance in representatives
7. KELLIE What will your organisational structure look like?
7.1. Focussed on outcomes
7.1.1. Place/city design
7.1.1.1. Creating livable spaces for people
7.1.1.2. Design in partnership with community
7.1.1.3. Influence developers for community outcomes
7.1.2. Community
7.1.2.1. Single view for the customer
7.1.2.2. Facilities, programs, culture
7.1.3. Customer / corporate
7.1.3.1. Back office support
7.1.3.2. Shared services?
7.1.4. Integrity, innovation & integration
7.1.4.1. Silo busting
7.1.4.2. Strategic, innovative vision for the future
7.1.4.3. Absolute transparency
7.1.4.4. Driving performance and motivation
7.2. Project teams & processes to break down silos & encourage collaboration
7.2.1. Wide consultation internally on initiatives, even if it slows the project down
7.2.2. Lessons learned - captured and shared
7.2.3. Lots of opportunities to give back to the community (tapping into what drives a lot of LG employees in the first place)
7.2.4. Office spaces that encourage interaction
7.3. Social aspect
7.3.1. Wellbeing programs
7.3.2. Charity continbution opportunities
7.3.3. Newsletters & internal social media
7.3.4. All staff have a "profile" with skills & interests listed
8. ADAM What will your government do? What services will you provide?
8.1. Services going federal
8.1.1. Health
8.1.2. Education
8.1.3. Highways, freeways,, connectivity
8.2. Services staying regional
8.2.1. Roads, rates rubbish
8.2.2. Road maintenance
8.2.3. Art spaces, multi-use, networking
8.2.3.1. Advantage of engaged & connected community
8.2.4. Disability access on roads, in parks
8.2.5. Events
8.2.5.1. Drives engaged & connected community
8.2.6. Facilities, leisure centres, recreation
8.2.7. Libraries, heritage working hand in hand
8.3. Partnerships btn federal & regional
8.3.1. Police / Justice?
8.3.1.1. Training at federal, managed regionally
8.3.1.2. Work closely with regional commands
8.3.2. Transport
8.3.2.1. Specifications set at federal level
8.3.2.2. Regional minister works on implementation and represents community
9. Sessions
9.1. 1 - Tues 28 June - 1 Hour - All
9.2. 2 - Mon 25 July - 40 mins - All
10. ADAM Script ideas
10.1. Option Two -
11. Option One – "Wake for it……" - Emma is doing a kids story book reading, trying to get a group of children to sleep. During the story Emma is interrupted and Informed of her role on a merger team, is excited to be part of the process.   - After the story Emma is whisked away to a meeting about the new council  - this is where our 'un-ideal' scenario is presented. - Presentation is acted out, using a dodgy power point presentation of key points with dull imagery. (at this point the audience still think this is our proposal, but it is a bit tongue in cheek) - Nearing the end of the un-ideal presentation we hear "Emma…Emma… EMMA!" to where Emma wakes up. She had actually fallen asleep herself and wakes up with 'oh, I just had the worst dream…' - Emma is then whisked away to the actual meeting about the new council, and is presented with the Ideal version. - Again this presentation is acted out  but uses a more professional power point presentation and brighter imagery.