The Future of Media Work & Learning
by
Helen Baxter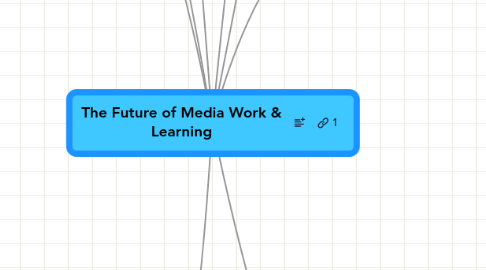 5.0
stars -
1
reviews range from
0
to
5
Keynote speech from Helen Baxter of Mohawk Media at Engaging with the Future at the New Zealand Broadcasting School in Christchurch.
Skills & Attributes
Hire for attitude, train for skills
Avoiding Future shock
Auto-didacts
Importance of Games
Need Shared Terms of Reference
Telescoping nature of evolutionary paradigm
Powersearching
Knowledge Trading
Social networks
Technophilia
Business Skills
Professional Practice
Freelancers & contracters
Xero.com, Invoices, accounts
Brand of One
Self publishing
Presentation
Prezi.com
Flexibility
Social Media Savvy, Strategy, Skills
Selling
Stories
Ideas
5 - 10 years
Multiple Careers
Robots
Fab Labs and Desktop Printers
Nanotechnology
Future of Media Learning
"It is the supreme art of the teacher to awaken joy in creative expression and knowledge." ~ Einstein.
Life-long Learning Needed for ALL - Students AND Educators
Innovation through collaboration
Connecting students, educators and business partners
Moving towards a "Literacy of Cooperation", Howard Rheingold
Two way knowledge flows
Publish v Practice
More hands on
Less theory
Income streams & syndication
Professional Practice skills
Publishing now Two-Way
1. creation & publishing of content
2. managing audience feedback
Manage the learning - not the students
Format changes structure
Shorter Formats 2-3 mins
No Padding for Ad Breaks
Webtop v Desktop Applications
E-Learning from the best
MIT Open Courseware
For free!
3D Virtual Worlds
e-Learning Academies - 2nd Life
Live Lectures with world experts
Avatars & Teleprescence - for interviews, conferences & work
Machinima made Cinema
Console communities - being Kinected
TED Talks, Technology, Entertainment & Design, Ideas Worth Spreading, Eva Vertes - Aged 19, Alzheimers Breakthough Aged 14, Princeton - Cancer Stem Cells Research, Sir Ken Robinson, Changing Education Paradigms
Teachertube, "I don't have ADHD - I'm just not listening, Pay Attention
Manage the learning - not the students
Future of Media Work
New Pathways to Publishing
Markets / Income
Crowdfunding
Budgets slashed
Need for multi-tasking teams
Specialists not longer enough
Remote / Distributed Teams
Cloud based PM tools essential
Team Work PM
Basecamp
Mobile Networks
Contracters & Freelancers
Not making TV, Video, Film
Digital Media Content
Three Screens, Quick Dip, Mobile, Phones / PDAs / Netbooks, Lean forward, Interactive, Media / Games Machine, Lean back, Watch, Home Theatre & TV Systems
Changing consumption
Plummeting Production Costs
All starts with sound, Decent mike + pop shield, Buy Wireless radio mikes, Jawbone noise cancelling microphones
Lower barriers to entry
Do what you can with what you've got, Skype audio interview: Greg Broadmore, Weta Workshop, + Animation = Dr Grordbort interview (2:30)
Some Rights Reserved
Remixable Media
Reach new audiences
Build a fan base
Journalism
Collborative reporting
Wikis v Blogs, Wikileaks
Crowdsourcing, Fact checking
Social Media Curation, Storify, Keepstream, Curatedby
Twitter conversations
Citizen media, images, video, audio from phones
Business
business models lag behind tech
Embed sponsorship or product placement, More effective than pre-rolls or overlays
Create once - sell many times
Korea - grid delivery systems & P2P Distribution, Bandwidth increases the more download
Google TV, Entertainment hub, searches all channels, Apple TV
Mobile
Pico projectors
Haptic feedback
Tactial interfaces
50% of the world now has a mobile phone
Qik.com - citizen media streams
Gaming/Interaction
Participatory Media, Online Identity
Cast your avatar in LOST Universe
Fan fiction, Buffyverse, Firefly Browncoats, Star wars
Racting - The Diamond Age
"People watch stories not pictures"
Holo-TV
Known as Star Wars Tech
Demoed - Japan 2009
No 3D glasses
Can move head around
NHK Japan 2016
Japan driven by bid for 2022 World Cup - football
Not on walls, more like large book on floor
Future
Real Time Translation, Babelfish earpieces
Flexible screens, Home wall - organic LEDs, Cheaper than wall paper?
Contact lenses, Digital lenses can already zoom in
OLEDs need no backlighting
3d Autostereoscopic displays
Challenges & Opportunities
The Cloud
The Internet is now Integral not External to Life
Learning how to learn, Adaptive thinking, Fluid Intelligence
What's all this 2.0?, Co-operation v Competition, Collaboration v Control, Clicks v Mortar, Webtop v Desktop, Blogs, Pods, Vlogs, Tagging, Prosumers, Generation Y
The Semantic Web, Tagging, Folksonomy, Taxonomy
Wikis, Collaborative writing, facts
Blogs
RSS, Readers, Aggregators
Twitter, search.twitter.com, #eqnz
Podcasting / Streaming, netRadio, Ustream.tv, qik.com
Vlogging, IpTV, Adobe OnLocation
Social News Networks, Citizen Media, Reddit
Open Source Software, Free, Open, Customisable, Shareable, Edubuntu for Operating System, Drupal for Community Platform, Moodle for e-Learning Spaces, Open Office / Zopa for office tools
Crossposting, Tube Mogul, Pixelpipe, Posterous, Tumblr
Content & News
Transparency
Wikification of the Media
Shared Bookmarks & Annotations
Community feedback
Tech Commentator, Virtual World, Radio NZ
Producer, the g33k show
Alt TV, 2008, Free to air, SKY & Stream, Half hour animated show, Produced by two people
Ustream.TV, 2009 - 2010, Kiwi FM
Re-launched2011, Real time animation, Podular approach, Multichannel
Pathway
Venue Magazine, 1992
Internet Business, 1994
Internet Trainer, 1997, BBC Radio Commentary, Distance learning DVD, All you need to know about the Internet (Digital Cognition, 1998)
Internet Producer, 2000, ECommunities
Editor / Community Manager, 2001 - 2003, KnowledgeBoard.com, Global Community, Teleworker, Knowledge & Innovation
Links