Lebenslanges Lernen mit Web 2.0
by
Ulrich Schrader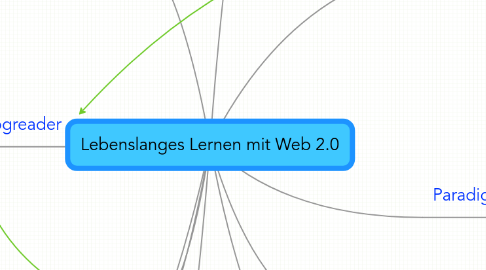 4.7
stars -
3
reviews range from
0
to
5
Lebenslanges Lernen mit Web 2.0
RSS - Format
Integrator
An integrator is a device to perform the mathematical operation known as integration, a fundamental operation in calculus. The integration function is often part of engineering, physics, mechanical,...
Standard
RSS ist in so weit ein Standard, dass man sich noch nicht einmal über die Bedeutung des Namens einig ist.
Really Simple Syndication
Rich Site Summary
RDF Site Summary, Resource Description Framework
Weblog (Blog)
Notizbuch
privat
öffentlich
kommentierbar
üblicherweise chronologisch absteigend sortiert
Kommunikationsplattform
Kommentare
Peer-Review
RSS-Feeds
Beispiele
Blogger (Google)
Wordpress
Content Management Systeme (CMS)
Subscription von RSS-Feeds
"Pull" statt "Push"
kein Spam
"Ich bestimme!"
Wie Posteingang, nur für das Web
Eigene Zeitung
Über RSS-Feeds zusammengestellt
Leicht änderbar
Neue Interessen, neue Inhalte
Browser
Flock
Internet Explorer
Firefox
Web-basiert
Bloglines
Google Reader
myMSN
Google Personalized Homepage
Participative Web
Participative web
Jeder kann sich einbringen!
Services
Use, Remix, Share
Text, Blogs, Wikis, Google Documents, Google Notebook, Zotero, Ubernote, Evernote
Bilder, Flickr, WikiMedia
Literatur, CiteULike, Connotea, 2Collab, Zotero, BibSonomy
Präsentationen, Slideshare
Recherchen, National Library of Medicine, Google News Suche, Technorati
Links, Del.icio.us, Digg, Diigo
Orte, Google myMaps
Mindmaps, Mindmeister
Videos, Google Video, YouTube
Personal Spaces, mySpace, FaceBook, StudiVZ
Kurznachrichten, Twitter, Plurk
Social Networks, Ning, Facebook
Lerninhalte
Relevanz
Nützlichkeit
Inhalt
Zeit
Ort
"Ich entscheide!"
Interaktivität
Anwenden
Transponieren
Kommunizieren
Informelles Lernen
Selbstbestimmt
Was
Wann
Wo
Wie
Inhalte suchen
Suchen generieren RSS-Feeds
Personal Learning Environment (PLE)
Content Management System (CMS)
Nicht institutionsgebunden
Nachhaltigkeit
Learning Management Systeme
Institutionelle Learning Management Systeme haben den Nachteil, dass nach Abschluss des Studiums die Inhalte in der Regel nicht mehr verfügbar sind. Bestenfalls müssen diese aus mehreren LMS zusammengesucht werden.
RSS-Aggregator
iGoogle
Blogreader
Rechtliche Aspekte
Code of Conduct
Ein Knoten des Netzes werden (Meine Community)
Autoren "folgen"
Kommentieren
Inhalt anbieten
"Verfolgen" lassen