La psicologia dell'Icaro moderno
by Aurora Zapp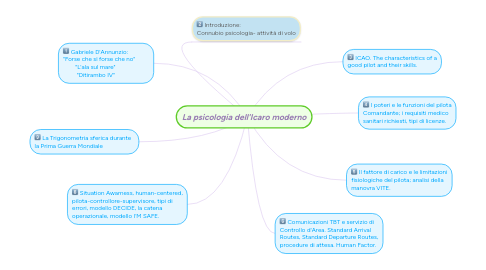 1. Gabriele D'Annunzio:               "Forse che sì forse che no"              "L'ala sul mare"                      "Ditirambo IV"
2. Introduzione:                          Connubio psicologia- attività di volo
3. ICAO. The characteristics of a good pilot and their skills.
4. I poteri e le funzioni del pilota Comandante; i requisiti medico sanitari richiesti, tipi di licenze.
5. Il fattore di carico e le limitazioni fisiologiche del pilota; analisi della manovra VITE.
6. Comunicazioni TBT e servizio di Controllo d'Area. Standard Arrival Routes, Standard Departure Routes, procedure di attesa. Human Factor.
7. Situation Awarness, human-centered, pilota-controllore-supervisore, tipi di errori, modello DECIDE, la catena operazionale, modello I'M SAFE.
8. La Trigonometria sferica durante   la Prima Guerra Mondiale