CYBER-BULLYING
by camilo montejo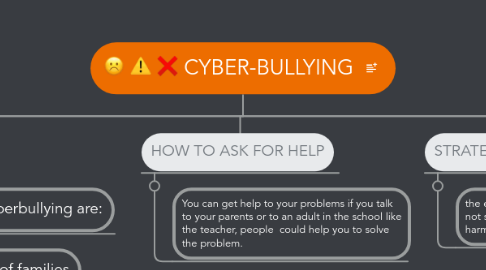 1. RISKS
1.1. The risks of the cyberbullying are:
1.1.1. lower income of families
1.1.2. antisocial or unpopular
1.1.3. unable to get along with others
2. HOW TO ASK FOR HELP
2.1. You can get help to your problems if you talk to your parents or to an adult in the school like the teacher, people  could help you to solve the problem.
3. STRATEGIES TO BE SAFE
3.1. the estrategie to be safe of the cyberbullying is not share information that people could use to harm you in social medias
4. PSYCOLOGICAL IMPACT ON VICTIMS
4.1. physical stress
4.1.1. depresion
4.1.1.1. anciety
5. DEFINITION
5.1. The cyber bullying the use of technology to harm a person through internet, social pages.
5.1.1. It can damage another person with:
5.1.1.1. videos
5.1.1.1.1. images