CYBERBULLYING
by Sofia jaramillo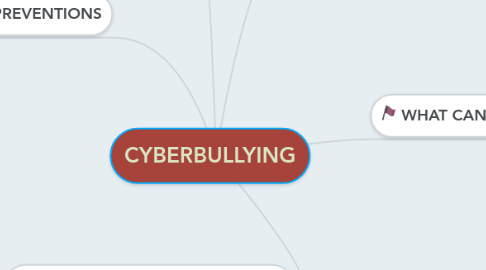 1. EFFECTS
1.1. Depression
1.2. Development of disorders
1.3. Childrens have to move from classes or schools
1.4. Self esteem
2. DEFINITION
2.1. Is bullying that takes place using electronic technology. Electronic technology includes devices and equipment such as cell phones, computers, and tablets.
3. WHAT CAN YOU DO?
3.1. Intervene immediately. It is ok to get another adult to help.
3.2. Separate the kids involved.
3.3. Make sure everyone is safe.
3.4. Meet any immediate medical or mental health needs.
3.5. Stay calm. Reassure the kids involved, including bystanders.
3.6. Model respectful behavior when you intervene.
4. PREVENTIONS
4.1. Create Policies and Rules
4.2. Build a Safe Environment
4.3. Educate Students and School Staff
5. RISK FACTORS OF PERSONALITY
5.1. Are perceived as different from their peers, such as being overweight or underweight, wearing glasses or different clothing, being new to a school, or being unable to afford what kids consider "cool"
5.2. Are perceived as weak or unable to defend themselves
5.3. Are depressed, anxious, or have low self esteem
5.4. Are less popular than others and have few friends
5.5. Do not get along well with others, seen as annoying or provoking, or antagonize others for attention