PATHSTONE MENTAL HEALTH "a place to get unstuck"
by Michele Zoccoli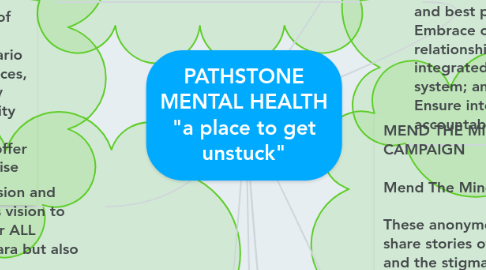 1. MEND THE MIND POSTCARD CAMPAIGN Mend The Mind Postcards These anonymously submitted postcards share stories of how how mental illness, and the stigma associated with it, has affected individuals throughout the Niagara region. Whether you are the mother, brother, aunt or husband of someone with a mental illness, or someone who has been personally affected, you all have a story. This is your voice. To learn how to submit your own postcard click on the link http://www.mendthemind.ca/submit-postcard
2. GROWING UP IN TODAY'S COMPLEX WORLD CAN BE TOUGH. There are many burdens that can weigh on a child's mind. For some, the weight of a mental health disorder makes the burden far heavier than it is for others. Mental illness in young children, pre-teens, and adolescents is widespread and often goes undetected, and ultimately untreated.
3. PATHSTONE SERVICE         PRINCIPLES                     Pathstone Mental Health believes that to enhance the mental health and well being of children, youth, and families we must: Promote family/youth centred principles and approaches; Build on strengths and expand capabilities; Strive for diversity competence; Reflect evidence-based research and best practices; Embrace collaborative relationships to achieve an integrated service delivery system; and Ensure integrity and accountability.
4. OUR VISION Mental wellness for ALL children, youth and families.                                             OUR MISSION We strengthen the quality of life for children, youth and families who are dealing with mental health challenges.    OUR CORE VALUES Respect, Communication, Trust, Commitment to Quality, Integrity, Teamwork, Innovation
5. FACTS ABOUT                     PATHSTONE MENTAL HEALTH We are a non-profit charitable agency operating under the Child and Family Services Act.                                             We are governed by a Community-based volunteer Board of Directors.         Our funding is provided by the Ontario Ministry of Children and Youth Services, the Ontario Ministry of the Attorney General and the Regional Municipality of Niagara.                                                                                       We also offer fee-for-service programs and fundraise for additional support.
6. PATHSTONE addresses equity, inclusion and awareness of cultural diversity by its vision to offer support for mental wellness for ALL children, youth and families of Niagara but also through its many partner programs  (https://www.pathstonementalhealth.ca/partners) such as:                                                                             Niagara Training and Employment Agency http://ntec.ntec-nss.com/page/home                                                                            Niagara Chapter of Native Women http://www.ncnw.net/                                                                                                            STRIVE http://www.striveniagara.ca/
7. We offer a broad spectrum of treatment services and programs, delivered by highly qualified staff to strengthen children and families. We serve all children and youth from birth through to their eighteenth birthday. To access services, you're encouraged to contact Contact Niagara at 905-684-3407. SERVICES INCLUDE:
8. INTAKE AND ACCESS All mental health referrals come to Pathstone via central intake at Contact Niagara. We also receive referrals from day cares for behavioural concerns. Once a file is sent to Pathstone from Contact Niagara it is triaged. It may be sent to brief services, Forensics, and Mobile Intensive Treatment. Typically these services will schedule an appointment in 1-3 weeks. However most families, children, and youth will be referred to Capacity building. This service will phone the family within 5 business days to arrange an appointment within 3 weeks.
9. SERVICES INCLUDE: Capacity Building, Specialized Consultation and Assessment, Forensic Unit, Counselling and Therapy, Family Intervention, School-Based Programs, Early Years Programs, Groups and Clinics, Mental Health Promotion, Intensive Services, Day Treatment Program, Outreach Services, Residential Services