The Reach Out Centre for Kids (R.O.C.K)
by Amy Scarpone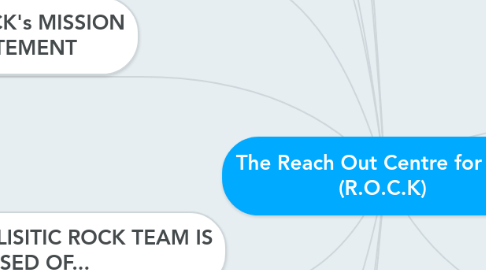 1. WHAT IS R.O.C.K?
1.1. - a not for profit organization servicing kids, youth and families of Halton for over 40 years
1.1.1. -an accredited mental health centre that provides a multidisciplinary approach to diagnosing, assessing and treating
1.1.1.1. -provides prevention and intervention strategies
1.1.1.1.1. - provides links to services within Halton region
2. R.O.C.K's Goals for 2016 (as set out in their annual review plan
2.1. -continue to meet with MCYS funded agencies
2.1.1. - involve more youth and families in the planning process for R.O.C.K services and agency affiliations (especially focus groups such as LGBT, youth under 12 and youth involved in the Justice System)
2.1.1.1. - continue to share summaries and key learning and findings that emerg with other mental health agencies and community services
3. CLINICAL SERVICES OFFERED
3.1. 1.) walk-in therapy clinic (drop in)
3.1.1. 2.) Family Therapy
3.1.1.1. 3.) Individual Therapy
3.1.1.1.1. 4.) Psycholofical Assessments
4. REGIONAL 0-6 SERVICES
4.1. 1.) Parent/Child Assessment and Therapy
4.1.1. 2.) Family Therapy
4.1.1.1. 3.) Behavioural Consultation and Intervention
4.1.1.1.1. 4.) Developmental Screening
5. PREVENTION PROGRAMS
5.1. 1.) Youth Aiding Youth (YAY)
5.1.1. 2.) Our Community Cares (OCC)
5.1.1.1. 3.) ROCK Burlington Ontario Early Years Centre
6. THE HOLISITIC ROCK TEAM IS COMPRISED OF...
6.1. Early Childhood Educators, CYCs, OTs, Crisis Counsellors, Social Workers, Psychologists, Psych Associates, Psychometrists, Therapists
7. ROCK's MISSION STATEMENT
7.1. "Working together to promote and achieve optimal mental health in kids and families" - Rock Brochure 2016
8. ROCK's VISION
8.1. "Building Rock Solid People" - ROCK Brochure 2016
9. How To Access Clinical Services
9.1. -must be from 0-17 years of age (or up to 21 years for Residential services)
9.1.1. -at risk for or experiencing symptoms of emotional issues and/or mental illness
10. How to Access the Walk-In Clinic Services
10.1. -R.O.C.K's walk in clinic provides families with in the moment access to professionals they might otherwise have to wait weeks for appointments with. Walk-in/Drop-in clinics provide relief to people on wait lists when immediate care is needed.
10.1.1. Walk-in appointments are open to individuals or groups seeking care
10.1.1.1. There are three Halton locations for walk-ins - Oakville (Tuesdays), Milton (Wednesdays) and Burlington (Wednesdays) all with the same appointment hours  (12:00pm - 8:00pm)
10.1.1.1.1. -typically after a walk in subsequent sessions or assessments may be set up, so it is often a great starting point when families are not 100% sure what type of care is required
11. Accessing R.O.C.K by Referral
11.1. -when there is a need for ongoing services children and youth can be referred by a family doctor, pediatrician, psychologist, etc to ROCKs services
12. R.O.C.K's Openness To All
12.1. ROCK doesn't have any "written" views on aboriginal or cultural diversity, however they are an all inclusive organization with their doors and arms open to any child and youth in need in the Halton region
12.1.1. They have often aided teachers and families with the HMC (Halton Multicultrual Council) in order to receive support on differentiating and navigating cultural norms and also in obtaining translators for parent meetings
12.1.1.1. They are also part of the Positive Space Network bringing awareness and education to families, educators, medical professionals and community services on the issues of homophoba, bi-phobia, trans-phobia