Intergrating IT in KS3 Curriculum
by Leung Kelly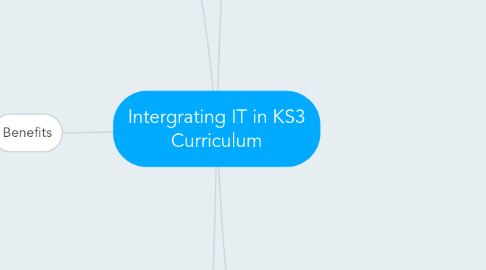 1. Stakeholders and their roles
1.1. Teachers (Ts)
1.1.1. Ts implement the plans
1.2. Students (Ss)
1.2.1. Ss needs to study the curriculum
1.3. Parents (Ps)
1.3.1. Ps probably need to pay for the devices
1.3.2. Ps need to support the curriculum
1.4. School management
1.4.1. BYOD issue
1.4.2. Human Resources: hiring more people
1.5. Government (Gov)
1.5.1. Gov needs to provide more funding
1.5.2. Gov design the curriculum
2. Potential Problems & Solutions
2.1. Funding
2.1.1. More funding from gov
2.1.2. Bring Your Own Device (BYOD)
2.2. Ts are not capable in IT
2.2.1. Training
2.2.2. May need technicians to assist
2.3. Ss may go off-task
2.3.1. Ts may need more help
2.4. Less lesson time in actual teaching
2.4.1. May need extra lessons
2.5. Difficult for weaker Ss to follow
2.5.1. Need teaching assistants (TA)
2.5.2. Scaffolding of Ts to Ss
2.6. Ss rely on the computer
2.6.1. Promote both traditional learning AND IT
3. Benefits
3.1. Interesting to learners
3.2. Encourage life long learning
3.3. Ts are able to retrieve the materials from other Ts
3.4. Facilitate Language Across Curriculum (LAC)
3.5. Self-directed Study
3.6. Multi-media learning
3.7. Ss will have more opportunities to be in contact with the language via listening to the multi-media materials
3.8. Ts can easily collaborate with other Ts around the word
4. Integration in certain subjects
4.1. Language subjects
4.1.1. e.g. Ss are required to do some writing with reference to info found online
4.1.2. e.g. Language Labs
4.1.3. e.g. E-games that promote the language features
4.2. Content subjects
4.2.1. Liberal Studies
4.2.1.1. e.g. Ss can learn others viewpoint by reading online forums/articles etc.
4.2.2. Geography
4.2.2.1. e.g. Ss can see the places via apps like Google Maps without actual being there
4.2.2.2. e.g. Ss may even see the underground of certain places via the videos/pictures taken by others
4.2.3. Business
4.2.3.1. e.g. Ss can read the economics news around the world to further consolidate their knowledge by trying to explain it with theories in economics.
4.2.3.2. e.g. Accountancy software that aids Ss in learning the basic concepts
4.2.4. Science
4.2.4.1. e.g. (Biology) Software/images that shows Ss the body parts
4.2.4.2. e.g. (Physics) simulators of the physics phenomena
4.2.5. Mathematics
4.2.5.1. e.g. e-games that requires Ss to do basic math
5. Integration methods (Focus of the research)
5.1. e-textbook
5.1.1. some people claims that it decrease the burden of Ss by decreasing the weight of their school bags
5.1.2. learning with multi-media
5.1.3. More interesting to Ss and thus making them more motivated to learn
5.1.4. May include e-games to further consolidate their knowledge
5.1.5. Ss can self-study in advance of the lesson by listening to the audio clip/video etc.
5.2. Flipped Learning
5.2.1. Promotes self-study
5.2.2. Ts can focus more on the minor mistakes Ss may make in class.
5.2.3. Requires thorough preparation
5.2.4. Ss' motivation: Ss may not be motivated to study at home
5.2.5. Ss' reliance on Ts to teach them (spoon-feeding of knowledge)
5.3. Bring Your Own Device (BYOD)
5.3.1. Motivation of Ss?
5.3.1.1. Positive: Ss may be more confident of using the devices they know
5.3.1.2. Negative: Ss may be distracted by other apps on the device (e.g. games)
5.3.2. May lower the financial burden of schools since they don't have to provide devices
5.3.3. Can be supplemented with e-books
5.3.4. Ss can still study outside school hours
5.3.5. Poor Ss may not be able to afford it
5.3.5.1. Borrowing devices from school?
5.3.6. Need of technology support