Existence of God
by
Hannagh McVeigh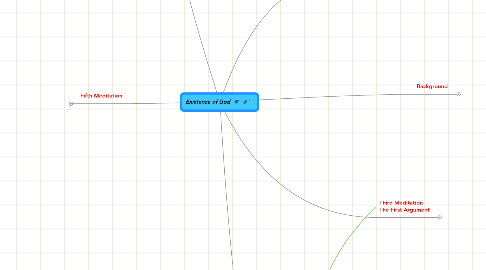 0.0
stars -
0
reviews range from
0
to
5
This is just a demo map that you can delete right away, if you feel like it...
Fifth Meditation
With regard to God, in the 3rd Med, D argued, primarily, that the essence of God is of a being who is supremely perfect, infinite, eternal, immutable, independent, powerful, etc.
In the 5th Med, D returns to topics of matter and God. As with the 2nd Med, D considers the essence of matter. As with the 3rd Med, D considers both the essence and existence of God, but with a new twist.
THE ESSENCE OF MATTER
THE ONTOLOGICAL ARGUMENT
5TH MED SUMMARY
Introduction
1596-1650
Regarded as the founder of modern philosophy.
Wrote 'Meditations' at a time when people where looking for answers. It was clear that appealing to authority wouldn't do.
Third Meditation - The First Argument
Makes use of scholastic metaphysical concepts and principles.
Presents 2 problems
This Med presents the TRADEMARK ARGUMENT because the thinker's idea of God is described as if it were a trademark that the creator has left in his creature.
Critique
AQUINAS
KANT
Background
The first 2 arguments are sceptical and threatened all knowledge but knowledge of self - which is provided in the cogito. In the 3rd Med, the thinker turns to question God.
Descartes believes that he can prove the existence of God.
Knowledge of God = the foundation of all knowledge rather than immediate self-knowledge.
Two independent arguments for existence of God are given in the Med's: One in Med 3 and the other in Med 5...
THE TRADEMARK ARGUMENT
The thinking begins by reflecting on the mind (whose existence D has proven)
We can know the essence of God just as we could know the essence of material things just by reflecting on our concepts.
The thinker focuses on a question about causality. What is the cause of this idea that one has of God? According to the thinker, it is self-evident.
CAUSAL ADEQUACY PRINCIPLE: