A SECURE, RESILIENT, AND EQUITABLE LOCAL FOOD SYSTEM MAP
by Nour Mazloum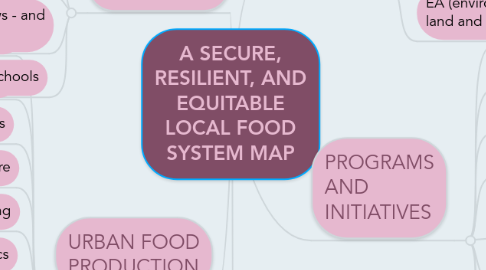 1. LAND USE
1.1. Land use (not just EA (environmental assessment) for new agricultural uses)
1.2. Protect farmland in the foodshed
1.3. EA (environmental assessment) process to protect land and encourage sustaining agriculture
2. PROGRAMS AND INITIATIVES
2.1. City food procurement target to ensure % of food is always being bought locally
2.2. Energy exchange food programs
2.3. Encouarge good food box programs
2.4. "Rooted Foods Co" local food delivery program
2.5. Community food hub to bring together local food efforts in one place
2.6. "Food trips" - tour community gardens
2.7. Cold storage capacity @ Cataraqui Region Conservation Authority
2.8. Encourage local food production
3. URBAN FOOD PRODUCTION
3.1. Encourage local food production
3.2. Be okay with front yard gardens!
3.3. Small scale / personal gardens
3.4. Develop urban agriculture
3.5. Rooftop gardening
3.6. Hydroponics
3.7. Urban food forests
3.8. Shipping container farms
3.9. Allow beekeeping in Kingston
3.10. Green roof laws (like in Toronto)
3.11. Promotion of "backyard" vegetable gardens
4. EDUCATION
4.1. Community outreach from education institutions
4.2. Various ways of communicating the various food programs to those who are low income or can't get out much. Not all who need it know about it.
4.3. Help children to see how food grows - and offer opportunities for them to try
4.4. Promote farmers schools
5. OTHER
5.1. Intergenerational - we need wisdom and energy from all citizens
5.2. Food accessibility and diversity
5.3. Value people over money