MOBILITY AND CONNECTIVITY
by Nour Mazloum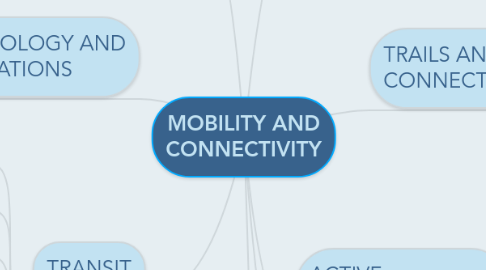 1. ACTIVE TRANSPORTATION
1.1. Encourage workplace commuting by bus/car/bike
1.2. Work with KCAT to improve active transportation
1.3. Informal attire more acceptable so biking to work is an option without penalty
2. CYCLING
2.1. Use the bus bike racks
2.2. More bicycle racks in some areas e.g. East Side + many malls
2.3. Free of fee bike use systems - TD system in Montreal is an example
2.4. Bike rental stations (like Bixi)
3. TECHNOLOGY AND INNOVATIONS
3.1. Renew streetcar on Princess Street?
3.2. More electric cars - system city wide for people to use, charging stations, dealerships
3.3. Electric vehicle conversion, including charging stations
3.4. High occupancy vehicle lanes along multi-lane corridors (e.g. Bath, Princess, Front) during peak hours.
3.5. E85 (alternative fuel) pumps
4. TRAILS AND CONNECTIVITY
4.1. Continuous bike paths
4.2. Continuous waterfront trails
4.3. Maps, kiosks along waterfront trails
4.4. Make waterfront trails more accessible
4.5. No connection for cyclists between downtown & West End
4.6. Waterfront master plan - connectivity NOT a dominant theme
4.7. West End challenges - reduced central focus
4.8. Complete system of connected bike units
4.9. Boardwalks along the waterfront
5. TRANSIT
5.1. Boardwalks along the waterfront
5.2. Bus passes at Shoppers - greater ability to reload passes at various locations
5.3. Have more bus drivers for Kingston transit - 24/7 service, strict bus times
5.4. Para-transit like minibus taxis to help connect elderly that can't drive
5.5. Bus system good to reduce traffic. Reduce cost for low income people.
5.6. Make Kingston Transit express bus go 24/7 to help those who work late have safe and affordable transportation.
6. ACTIVE LIVING
6.1. Raise awareness of physical activity opportunities
6.2. Increase access to physical activity opportunities for all
6.3. Work with Kingston Gets Active
7. SIGNAGE AND WAYFINDING
7.1. Trail kiosks
7.2. Sidewalk "landmark" signs or symbols (for directions & attractions)
8. STREETS
8.1. Fill the potholes please
8.2. More separated bike lanes for both recreation and active transportation
8.3. NY example dedicated lanes - density specific. Parking/Pedestrian/Cycling.