A WELCOMING, INCLUSIVE & ENGAGED COMMUNITY
by Nour Mazloum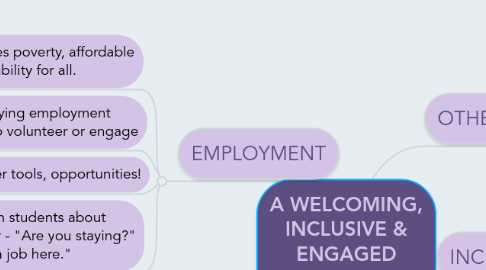 1. INCLUSIVITY
1.1. Multiple venues or forums were people of all social + demographics can provide feedback. Someone who can advocate and go around all areas.
1.2. Inclusivity of all social demographics in community engagement and decisions.
1.3. Meets ups across many interests. More opportunities for socializing.
1.4. Meaningful inclusion for people with mental illness - food is a great entryway!
2. NEWCOMERS & BEING A WELCOMING COMMUNITY
2.1. Work opportunities for refugees in the process of obtaining their visas.
2.2. Support our newcomers and refugees
2.3. City actively pursues anti-racism & diversity
2.4. Have cultural nights to make the city more inclusive toward the more diverse
2.5. Support initiatives from diverse groups (beyond "cultural" events)
3. CREATIVITY AND CULTURE
3.1. "Festivals" bookended sustainability wins by arts
3.2. A downtown that doesn't have so many empty storefronts
3.3. More pedestrianized streets
4. EMPLOYMENT
4.1. City that challenges poverty, affordable housing, good livability for all.
4.2. Without secure, decent paying employment there is no time / energy to volunteer or engage
4.3. Empower people to give back - offer tools, opportunities!
4.4. Every conversation with students about staying for the summer - "Are you staying?" "Depends if I can get a job here."
5. OTHER
5.1. Schools that are community hubs