More Content + More Places = More Leads! Blogging Basics Blog Training Guide - Call WSI Gregg Towsley 310-909-8835
by
Gregg Towsley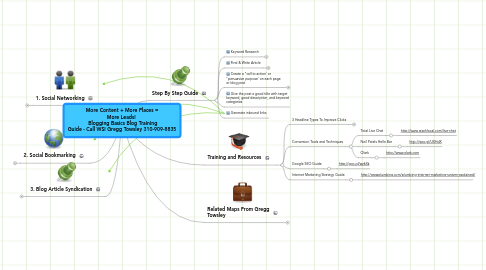 5.0
stars -
1
reviews range from
0
to
5
More Content + More Places = More Leads! Blogging Basics Blog Training Guide - Call WSI Gregg Towsley 310-909-8835
Step By Step Guide
Keyword Research
Google Suggest
Google Wonderwheel
Your Google Analytics or Google Webmaster Account
Google Trends
Google Insights
Find & Write Article
Write 200-400 article focused on one keyword, The keyword and keyword phrase should be mentioned at least 2-3 times., It need to be in the title and 1st paragraph
Provide links to valuable resources around the web and on your own website.
Write Amazing Titles (SEE GUIDE!), http://goo.gl/KyFRO
Create a "call to action' or "persuasive purpose' on each page or blog post
Links to additional articles on same topic within your website
Give the post a good title with target keyword, good description, and keyword categories
Generate inbound links
3. Blog Article Syndication
Information - Goal it is generate inbound links with good anchor text to exact blog URL
Biznik.com
SquareSpace.com
Press Release Sites
PR Web
MyPRGenie
Free-Press-Release.com
PR.com
MerchantCircle.com
eZineArticles.com
Yahoo
http://pulse.yahoo.com/y/blog
Squidoo
http://www.squidoo.com
Technorati
Yovia
Blogger
YouTube
All Top
SlideShare.net
Visual.ly
WordPress.org
Tumblr.com
2. Social Bookmarking
Digg.com
Delicious
StumbleUpon
Redditt.com
BizSugar
Newsvine
Business Exchange BX
Training and Resources
3 Headline Types To Improve Clicks
Include #'s, 6 Big Myths About...., 5 Reasons I Hate....., ....6 Tricks For Better Results, 4 Ways To Master, Top 10 List of, 8 Ways To....
Call To Action Headlines, Tweet If You Agree, Click Like If You Believe...., Watch This To Learn..., ....Share If You Read This!, We Recommend You Like This!
How To's and Why's, How To Dramatically Improve..., What Spending ..................... Taught Me, Why .....Is NOT This....., How [This] Saved Me [This], How To Handle......, Finally: An Easy Way To Understand
Headlines That Improve Clicks - http://goo.gl/KyFRO
Conversion Tools and Techniques
Total Live Chat, http://www.reachlocal.com/live-chat
Neil Patels Hello Bar, http://goo.gl/UXHdX
Olark, http://www.olark.com
Google SEO Guide
http://goo.gl/wz6Xk
Internet Marketing Strategy Guide
http://growplumbing.com/plumbing-internet-marketing-system-explained/
1. Social Networking
Twitter
LinkedIn
LinkedIn Profile
LinkedIn Groups
LinkedIn Company Page
Facebook
Profile
Business Page
Google+
Pintrest
FriendFeed
Related Maps From Gregg Towsley
Digital Media Marketing Plan
http://www.mindmeister.com/37785892/wsi-digital-media-marketing-plan-by-gregg-towsley
Social Media Marketing Guide
http://www.mindmeister.com/43582767/social-media-training-guide-social-media-training
LinkedIn Training Guide
http://www.mindmeister.com/108082002/linkedin-social-networking-that-impacts-your-bottom-line
http://www.mindmeister.com/157182620
YouTube Training Guide
http://www.mindmeister.com/142930803/youtube-video-marketing-training-guide
http://goo.gl/KyFRO