Courtney Long: Assignment 2.4 Planning a Presentation
by HushFM HushDigital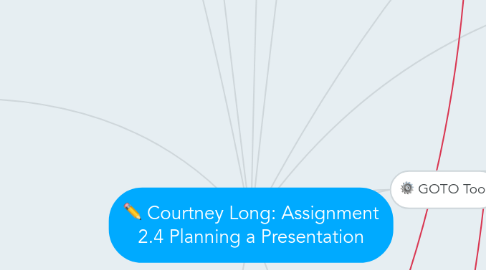 1. True Message
1.1. To have a donation run platform for musicians. aspiring artists and djs to be heard and promoted internationally
2. Idea: "Needle In The Haystack"
2.1. A donation run platform for upcoming artists,djs and producers to be heard all in one place.
3. Audience
3.1. 18-40 year old artists, Producers and djs emerging or re-emerging into the music industry.
4. GOTO Tool
4.1. True Message: I have a good idea.
4.2. Audience: Local Influential community members (This audience may change however depending on context).
4.3. Beginning: Connect yourself to the context of your idea through storytelling.
4.4. Middle: Establish problem and present vision of idea
4.5. End: Call to action. Rally with vision of positive outcomes.
4.6. S.T.A.R. Moment: Revealing idea through demonstration.
5. Section A Topics
5.1. 1. Age 18-40 artists, producers djs. You need this because it's impossible to market and be heard in the digital age of music from dot one. You need a platform to be heard. An audience and a way to network and be seen. Needle in a haystack refer to this saying multiple times.
5.2. connect myself to the audience by stating my struggle re-emerging into the indutry with no direction and no connections. Mindmapping as seen. Something to take away from the presentaion- HOW DO YOU DISCOVER MUSIC? Show them the difference with and without the platform i am offering them.2. Entertainment, music media. You can express yourself as you in many ways. Stand out from the masses on a professional platform to enhance what you can offer and a central location for all your skills to be seen.
5.3. Doing this because w/o a support network, stable platform it's impossible to be heard. A place to network and be promoted. Doing it alone w/o guidence is a feat. No one can pick you out of the crowd.
5.4. Use Videos, stats and artwork to convey this idea.
5.5. Obstacles to overcome during delivery. Feelings against my idea-Why cant they do it alone. Refute issues with already established media sharing sites and point out areas lacking. Why do they need us? Because we combine all these issues and platforms the industry offers and centralizes them for a nominal donation.
5.6. The hardest part will be to refute established media interfaces with individual profile support. Ex: Soundcloud, Mixcloud, Facebook…etc. Also showing them that you NEED to be seen on many fronts and that an established single brand known for underground up and coming talent will centralize the many many many artists, producers and djs out there. Also having it donation run can be hard as some people can take advantage of the service without putting any financial obligations in. With that we will refute that with a trial run of our service. We will expect a monthly donation of what you can throw in for the service, and that without this donation all the services will be shut down to the individual obviously taking advantage of this application we offer. We understand the struggles of financial obligations in your life hence why we run on donations. See this as an honor system.
6. Section B Topics
6.1. What knowledge do i have in the industry i strive to enter?
6.1.1. 1. I've 20+ years' experience as a classically trained musician. 15+ years as a Dj, Artist and promoter in the music entertainment industry. 5+ years in broadcasting and media marketing. I've also started and founded my own radio, record label, clothing line and graphic design firm.
6.2. What is your target industry? What are a few interesting points about this industry, and why are the interesting?
6.2.1. 2. My target industry is Music Media Promotion. Also my target people are up and coming artists, producers and djs trying to enter or re-enter the music entertainment industry. I find this industry interesting because as an artist, musician, producer, dj it's hard to stand out. You always need promotion. You can be yourself and offer your own creative ideas in this industry to change the foundation of music and adapt a new sound or even create a new genre.
6.3. What do you see as your next steps in the industry after graduation?
6.3.1. 3. After graduation I hope to bring my new skills acquired in the industry (then list various classes, skills I've obtained from being here) to better the idea and make it foster and grow properly. Give the idea legs so to speak and create a foundation that is solid as a rock with clear and concise concepts and adapt it the ever changing industry.
6.4. What qualities/skills does your industry look for?
6.4.1. 4. Talent. An Ear for finding the next best sound. Artistic vision. Eye catching advertising. Media that's catchy.
6.5. In your particular industry what forms of presentation (visual and oral) are effective?
6.5.1. 6. Advertisements, Numbers (Stats), Video, sound. All of it can work together to enhance the entire concept. As we offer a whole plethora of services in promotion and branding.
6.6. What type of strategies could you see yourself employing to communicate yourself in your brand? How will you use these strategies to differentiate yourself from others?
6.6.1. 5. Strategies would be, I'm also an artist, producer and dj. I can be heard and market my talents skill and broaden my impact on the industry in tandem.
6.7. Of the presentation strategies you learned this month, which would be the most valuable to you to develop and employ for your specific industry?
6.7.1. 7. The most valuable presentation strategies would be, the designer aspect in slide: ology, Create common ground- shared experience common goals, qualifications also refer back to pages 69 and 152 in resonate to enhance this.
6.8. How are you unique or how will u excel in this industry? What knowledge,skills would you have mastered as a result of your education @ Fullsail that will allow u to succeed in this industry. What is your specialty as you finish your degree? What are your unique interests?
6.8.1. 8. I am unique because I already have decades of experience in this industry. I have an ESTABLISHED BRAND, network, radio station and record label as well as social media presence. I'm a classically trained musician of 25 years and have done every aspect in the music industry from being in Chamber and Philharmonic orchestra, winning several gold medals as a soloist as well as ensemble. Played for the Mayor of West Bend WI. I'm also an established recording artist, vocalist and dj of 15+ years. I can play any instrument by ear, read all clefs of music including alto. I've marketing and networking experience and an established business.
6.9. Referencing your program courses, imagine what u have will already done. Consider course descriptions,potential portfolio projects  u want to complete as a student. Ex. you may have gained experience with industry specific software,publications, developments processes,specific equipment etc
6.9.1. COURSES
6.9.1.1. Creative Presentation - Online Psychology of Play - Online Audio Arts in the Entertainment and Media Industries - Online English Composition I - Online Recording Principles - Online Fundamentals of Music - Online Sequencing Technology - Online Career Module I: Personal Branding - Online Project and Portfolio I: Audio Arts - Online College Mathematics - Online Audio Workstations - Online Sound Design for Games - Online Career Module II: Career Research - Online Project and Portfolio II: Audio Production - Online Musical Structure and Analysis - Online Mixing Techniques - Online Popular Culture in Media - Online Career Module III: Résumé Fundamentals - Online Project and Portfolio III: Audio Production - Online
6.9.1.1.1. Research what I will potentially learn or gain from these courses and allpy those skills to my portfolio of services i can offer.
7. Section C Topics
7.1. Audience
7.1.1. 18-40- year old artists, producers and djs emerging or re-emerging into the music industry
7.2. Begining
7.2.1. My story I've been classically trained since i was 8 years old. A musician and artist. I had to give up that dream to care for my family and deal with life issues. I found my way back to my music but the industry had evolved and i had no idea where to start, how and what direction to go into. I didnt know about the new social marketing methods, new software and how to even be heard.
7.3. Middle
7.3.1. Problem- Having no direction or connections to be heard and a place to learn and grow. How can you be heard or stand out when there's so many people doing what you do. We offer a place to be heard, grow, learn advance and be promoted in a family atmosphere. A place to gain contacts and network with. Our already established brand puts all underground music in one location where you can be seen. We air your songs, and mixes promote and build up your numbers and followers on independent profiles. We have a centralized platform radio station and record label to grow through. People from all over the world can be in one place communicate with each other to bring all fan bases into one unit to broaden overall fan bases. It's better to unite as one to be heard than to stand alone in the masses and hope you're in the right place at the right time.
7.4. End
7.4.1. Call to action. Are you going to just hope you will be seen? You have the talent but how do you showcase it? We need to bring back the raw talent and individuality to the music world. It's hard to do this and be seen. With that you need to properly harness the talent and cultivate it to work in the professional industry. It needs to be centralized and promoted. Are you going to be that needle in the haystack? It's far easier to unite all of our resources into one unit, to work off of each other to grow together and bring our different amenities and skills to one idea. To benefit each other. United we stand. Don't fight alone for recognition in a big sea.
7.5. STAR Moment-
7.5.1. Revealing idea through demonstration. Demonstration= Hush Radio,Hush Digital. Established platform with many outlets celebrating all genres of music. Show them how easier it is to see all the different sites,social media, music etc as well as various outlets, that it's harnessed in one location. Not only do we air your music on our radio. We offer one on one training in various broadcasting methods, use of DAW producing programs as well as show you how to properly market your idea and be seen with stand out artistic visual posts. We also have a record label for those who are progressing in what they do to sign tracks and have them promoted and sold on all digital media outlets, ex- iTunes, amazon, juno,beatport etc... Show them the platform we offer.
8. Subjests From Reading to Incorperate
8.1. Page 76 in Resonate
8.1.1. Preparing for the audience's journey. Map out. See Mindmeister project map.
8.2. 2. Page 70 in Resonate- Communicate from the overlap. Establish how you are alike clarifying how you are different. Connecting em pathetically with an audience requires developing understanding and sensitivity to their feelings and thoughts. Share my struggle while I was in their position to connect properly.
8.2.1. We are alike because I have re-emerged into the music industry with no direction or contacts. Different as i've taken advantage of the service I am offering which has brought me exposure, contacts and generated several record releases from using the resources myself that i'm offering the audience. Show them this.
8.3. 3. Page 78 in Resonate- The Big Idea.
8.3.1. a. Articulate your unique point of view. Share what I've seen in this industry and why I feel it's better to apply my idea to their lives. b. Idea must convey what's at stake. Tell them how difficult it is to be heard and seen and how you need to centralize your pages, music and skills in one spot. Show google analytics statistics.
8.4. 4. Page 78 in Resonate cont'd. Share the 2 emotions of this pleasure vs pain. Raise the likely hood of pain if rejected, raise likely hood of pleasure if accepted. Share statistics and point out how they surf the net for music to drive this point home.
8.4.1. Show them with a statistics slide. And incorporate their own way they discover new music, to show them how easier it is to see it all in one place. Show them how hard it is to learn the new programs and market yourself with no experience or guidance. Show them the services we offer them again that will heal these potential hurts in their exposure and skills in the music industry
8.5. 5. Page 154 in Resonate. Evocative Visuals.
8.5.1. Show an example of the clarity of all the ideas centralized. Vs All of their ideas, music, content all over in the different places.
8.6. 6. Page 202 in Resonate- Gain competitive advantage.
8.6.1. Your job as a communicator is to get others to see what you are saying so your ideas gain traction. If you can do that you win. Use the repetitive statement "needle in a haystack". Share the statistics of not centralizing and promotion vs What we offer and where it's got our established clients (test clients) and myself thus far.
9. Potential Rescources- Key Points
9.1. Google Analytics
9.2. Soundcloud Listener/Follower stats
9.3. Mixcloud Listener/Follower Stats
9.4. Social Media presence you alone vs. our service
9.5. Show the website/platform and how it's all centrally located and accessible.
9.6. Show our Page 1 of google search results
9.7. Showcase our numbers.
9.7.1. Show our social media presence. Followers and likes.
9.7.2. Show our Music media site Numbers and plays. As well as interaction from the masses/listeners.
9.7.3. Show our Monthly website hits.
9.7.4. Show our radio's monthly listening totals
9.7.5. Show them the countries who tune in and interact with our services.
10. What Medium Will I use For Presentation
10.1. 1. WORD for initial rough draft. So i can localize my ideas.
10.2. 2. Mindmeister.com For rough draft to map out my flow of ideas. I will also couple this with a word file.
10.3. 3. Powerpoint will be used to put the presentation in a proper format. This will serve as the storyboard for my final presentation format. This will be accompanied by a word file, for additional personal analysis.
10.4. 4. My Second or Final Presentation format will be done via POWTOON. I will take the powerpoint slides in a storyboard concept to make a catchy visual video.
11. Future Representation of Myself
11.1. I have been classically trained since i was 8 years old. I've won several medals and competitions for my musical attributes. I later on got into broadcasting and producing music. Coming from a rough lower class family and also fighting a drug addiction and several losses of family and loved ones i didn't have much support, resources or options in my life. I've come through all my battles stronger and well developed as a human being. I can understand the perils of life and hardships. This in a sense gave me a story and emotions to channel into something positive, Music. I've fought for everything I have in this life and worked tirelessly to get where I am. From the bottom of my life it had laid down a foundation where i appreciate and respect everything i have and every chance i am given in this life. From my musical talents since i was young to running my own broadcasting company, record label clothing line, working, volunteering in my community and going to college full time. I am driven and skilled in every area and challenge i face. I now have the well-rounded skills proper education and framework to enhance my already established attributes and fighting spirit. I am valuable to this industry because not only do i never give up, every challenge i come across i learn how to not only defeat it but own it. I've come from no understanding in the industry to researching and fighting until i had a positive ending result in every fashion. Now that I'm properly accustomed and contoured to the inner workings of this industry i can fully apply my talents to make a change in this industry. I have the business experience, education and fighting spirit it takes to make it in this world. There's many people who WILL exist and work, but i CAN and am meant to do what i do. It's my life's goal to make a dynasty and legacy on this planet, to make a change and leave a mark on this world.