Challenge oneself and others continually to improve skills in volleyball.
by Jeffrey Long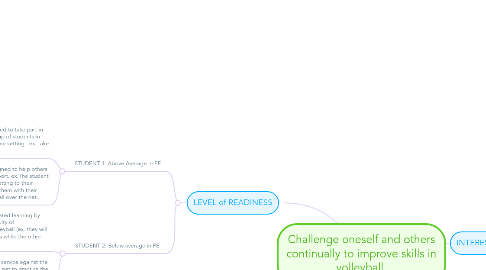 1. INTERESTS
1.1. STUDENT 1: SPORTS
1.1.1. Student will have a peer evaluation on how their classmates might be able to improve based on their understanding of the sport
1.1.2. Student will connect their knowledge/ interest in sports in creating a drill to help the class improve on certain skills.
1.2. STUDENT 2: Leadership, politics and student council.
1.2.1. Student will be assigned to set up a tournament/ competition for the middle school volleyball unit and create a proposal focusing on improving skills (ex. holding practices till game day)
1.2.2. Student will take the responsibility of learning the role of being an official by being a referee for a match which will in turn show the teacher she or he is aware of the proper and correct skills involved in the game.
2. LEVEL of READINESS
2.1. STUDENT 1: Above Average in PE
2.1.1. The student will be assigned to take part in leading the class or a group of students in helping them with the game setting . ex. take the role of Team Captain
2.1.2. The student will be assigned to help others who struggle with the sport. ex.The student will be responsible for setting to their classmates and helping them with their approach to spike the ball over the net.
2.2. STUDENT 2: Below average in PE
2.2.1. Student will have differentiated learning by adjusting the level of difficulty of accomplishing a skill in volleyball (ex. they will partner up and one will toss while the other will bump the ball)
2.2.2. Student will practice their service against the wall instead of infront of a net to practice the proper form and techniques.
3. LEARNING PROFILE
3.1. STUDENT 1: HIGHLY KINESTHETIC
3.1.1. The student will be given more advanced drills. ex .The student will be challenged to make at least 15/20 serves in to work on the skill of service
3.1.2. The student will be given a chance to lead the class in several activities in warm up and drills.
3.2. STUDENT 2 : SOLITARY (intrapersonal)-
3.2.1. The student will work one on one with the teacher / against the wall during assessment or observation of skills. ex. teacher will personally be the one to execute the passes and the student will bump to the teacher or against the wall.
3.2.2. The student will write a reflection paper after watching volleyball and assess the skill of both teams including strength and weaknesses.
4. by JEFFREY KIRK LONG