Advocating for sociopolitical context of professionalism in early childhood education in the state of Delaware.
by Katie Powell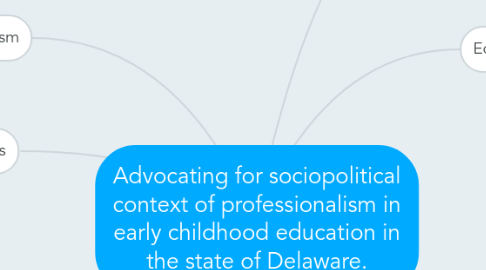 1. Education Standards
1.1. In early childhood education there is a devaluing of the field as educators. According to Boyd (2013) within the early childhood education workforce the relationship between education workforce the relationship between education, training and compensation is problematic. According to a study by Deutsh & Riffin (2013), the education of preschool teachers has been linked to higher quality preschool teaching.
2. Advocating
2.1. Childcare has not been viewed as a core social policy in the united states. According to Palley and Shdaimah (2011), all professionals who work with children have a role to play in shaping U.S. child care policy. Advocating for ECE will bring benefits to the educators and the communities. Unfortunately, "advocate and ECE "professional" are often viewed as contradictory, rather than complementary, roles (Macdonald, Richardson, and Lanngford 2015).
3. Multidimensional professional development in ECE
3.1. Focusing on more than the aspect of early childhood development, which is becoming quite extensive within the past five years, but the importance of leadership and community development to broaden the educators mind set and tie the educator into where the families environment to connect and adapt to the community as a whole.
4. Conceptualizations in professionalism
4.1. According to Harwood, Klopper, Osanyin, and Vanderlee (2013) conceptualizations in the professionalism fields of ECE are varied and often contested. they argue about a paradox of care, to be professional, do you have to be "cold" or can care and attachment be part of the professional idea when ECE is involved.
5. Barriers
5.1. Increasing professional expectations and decreasing workforce advocacy (Halafon and Langford, 2015).
6. Strengthening Delaware's quality early childhood system.
6.1. Explains in great detail and statistics of why early learning is important, reaching Delaware's at-risk children as early as possible, and why more is needed and how advocacy can help the cause. technical information and statistic's can be found from the NAEP score and University of Delaware's website.